April, 2023
Exolaunch Flawlessly Deploys 21 Satellites on Transporter-7 Rideshare Mission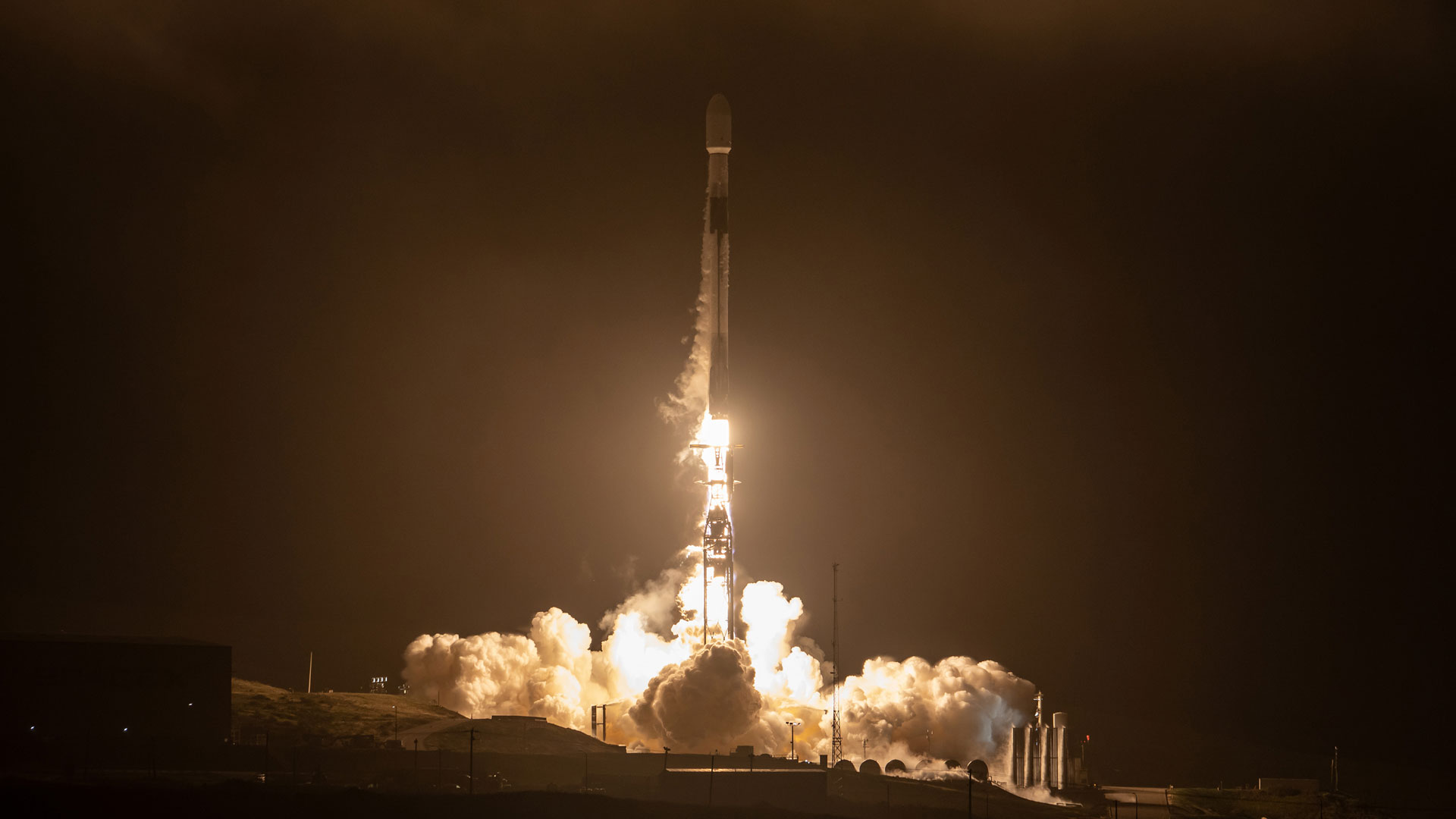 Image: Falcon 9, carrying the Transporter-7 mission, lifting off from Vandenberg SFB, © SpaceX 2023
Exolaunch successfully deployed 16 CubeSats and 5 microsatellites into a sun-synchronous orbit, bringing the Company's flight heritage to close to 300 launched satellites

Exolaunch used its record-breaking EXOpod CubeSat deployers and CarboNIX microsatellite separation systems to execute flawless satellite deployments

The manifest for this Exolaunch mission features a large number of new customers from government, academia and commercial space alongside many of the Company's long-standing customers

Transporter-7 is the maiden flight of the Company's EXOport Europa multi-satellite adapter, capable of mounting multiple satellites on a single launch slot
Vandenberg, California, USA / Berlin, Germany — April 15, 2023 — Exolaunch ("Exolaunch" or "the Company"), a global leader in small satellite launch services, mission management and deployment technologies has successfully deployed 21 satellites on SpaceX's Transporter-7 mission. The mission was launched using a SpaceX Falcon 9 on April 14 at 11:48pm PT from Vandenberg Space Force Base in California, USA. This is the 19th mission in Exolaunch's flight heritage, bringing it to a well-rounded 290 satellites launched and taking the Company ever closer to the 300 satellites milestone.
On its second Transporter mission this year, Exolaunch launched a combined mass of over 550 kilograms for multiple international customers hailing from the USA, Canada, the United Kingdom, Norway, Turkey, Spain, France, the Netherlands, Bulgaria, Monaco, Lithuania, Denmark, Argentina, Colombia, the UAE and Kenya. In total, Exolaunch safely delivered 16 CubeSats and 5 microsatellites carrying various Earth observation and communication payloads into a sun-synchronous orbit above an altitude of 500 km. During the flight, all customer satellites separated seamlessly from the Falcon 9 upper stage via Exolaunch's industry-leading EXOpod and EXOpod Nova CubeSat deployers as well as its CarboNIX microsatellite separation systems.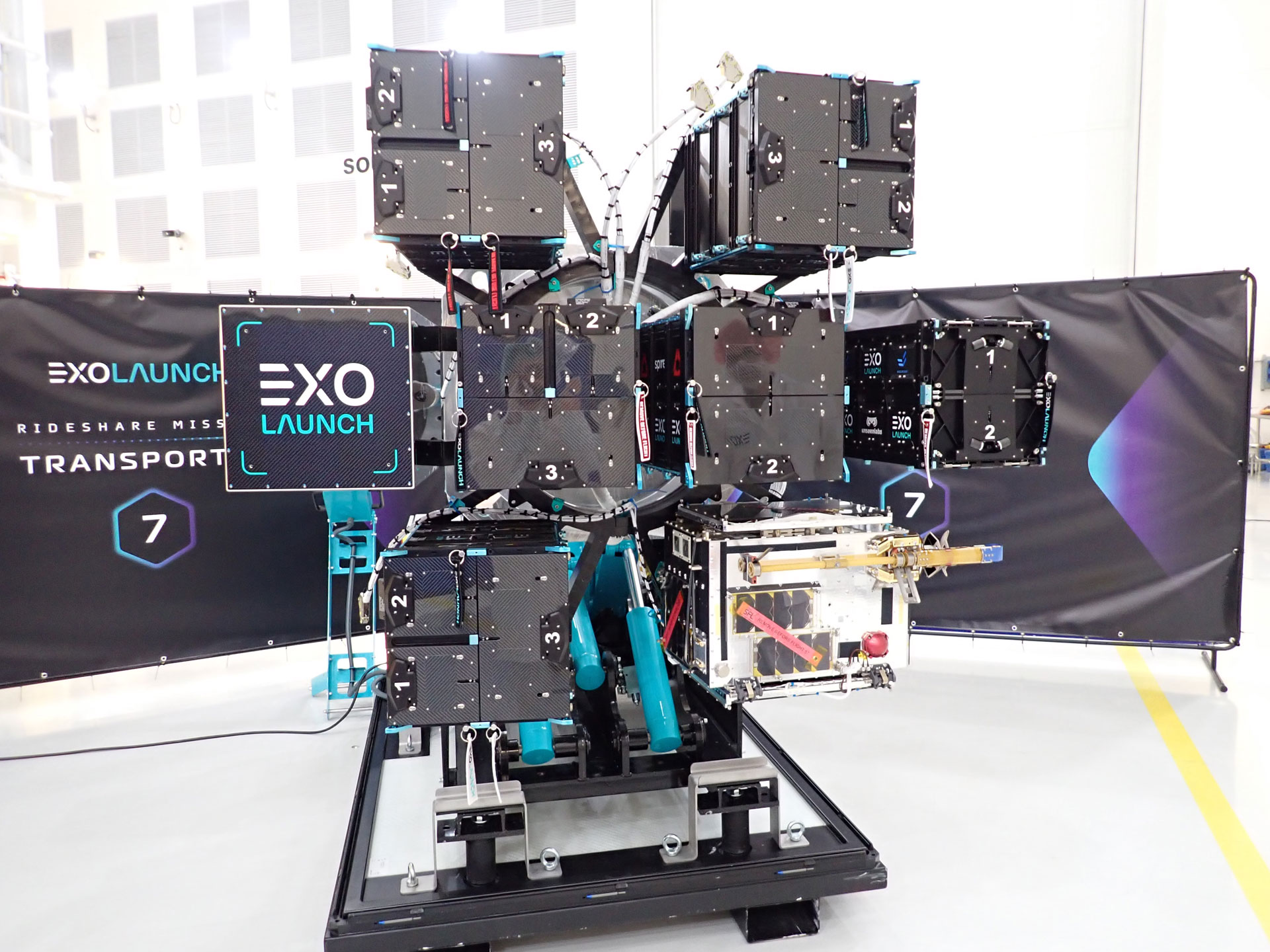 Image: EXOpod, EXOpod Nova and NorSat-TD mounted on Europa-Type EXOport, © Exolaunch 2023
This mission's manifest reflects a rapidly broadening customer base for Exolaunch. Indeed, the Company welcomed new customers from government, academia and commercial space, including Canada's Space Flight Laboratory on behalf of the Norwegian Space Agency, TÜBİTAK UZAY, the Kenya Space Agency with SayariLabs and EnduroSat, ISILAUNCH on behalf of Orbital Solutions Monaco (OSM) and Laboratoire Athmosphères, Observations Spatiales (LATMOS), the Stanford Student Space Initiative at Stanford University, Bronco Space at Cal Poly Pomona, UK-based OrbAstro for AstroForge, and the Colombian Air Force. Additionally, long-standing customers such as NewSpace power houses Spire Global, Kongsberg NanoAvionics on behalf of the Dubai Electricity and Water Authority and an undisclosed customer, Unseenlabs, GomSpace, EnduroSat on behalf of Sateliot, Plan-S and Satellogic successfully deployed their satellites via Exolaunch on Transporter-7.
Exolaunch fully managed the missions of all customer satellites clustered on a Falcon 9 launch port, and supplied hardware, integration, and deployment services for Satellogic on another port. All these satellites were mounted on two EXOport multi-satellite adapters, including the brand-new Europa-type which is capable of mounting no less than 6 different separation systems. Transporter-7 marks the maiden flight of the EXOport Europa on Falcon 9.
Since the beginning of SpaceX's dedicated rideshare program in 2021, Exolaunch has been using the EXOport adapters to mount and optimally cluster satellites on a single Falcon 9 rideshare port for superior cost effectiveness. The Company will bring this extensive experience to the upcoming Rideshare Plates being introduced by SpaceX for future Transporter missions.
Exolaunch provides capacity for its customers on Falcon 9 rideshare missions under a Multi-Launch Agreement (MLA) with SpaceX first signed in 2020 and since expanded to include new missions. Under the terms of the MLA, Exolaunch provides turnkey mission management, testing, integration services as well as its industry-leading separation systems.
"The Transporter program has become emblematic of the diversity and affordability of NewSpace, and Exolaunch is proud to help drive a more democratic and streamlined access-to-space architecture", said Connor Pollock, Mission Director at Exolaunch. "Our talented team always rises to the opportunity of launching new customers, going so far as designing custom hardware solutions for each of them. You can see this with EXOport Europa, whose first launch on Transporter-7 is a testament to our commitment to customer success."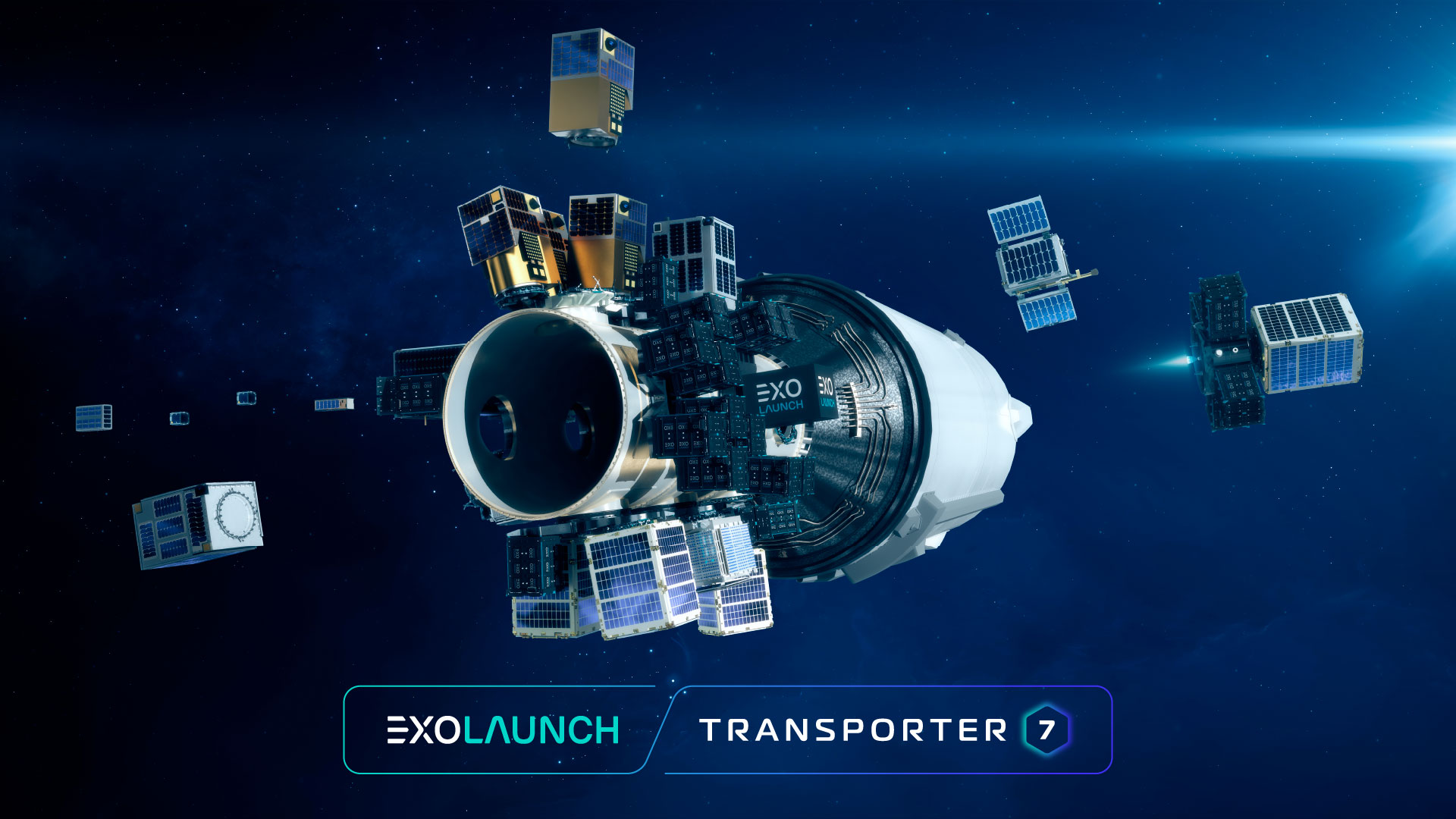 Image: An artist's rendering of the in-orbit payload deployments © Exolaunch 2023
"It is a privilege to fly with such prestigious customers on Transporter-7 and we are especially proud to accompany and stand alongside emerging space nations as they take their historic first steps in orbit", said Jeanne Allarie, VP Launch at Exolaunch. "Through our work on rideshare launches, Exolaunch has the chance to bring together the entire NewSpace value chain and take them across the finish line."
Exolaunch is on track to deliver its fastest-paced launch schedule in 10 years, having manifested a quickly-broadening scope of international customers on all upcoming SpaceX Transporter missions this year, as well as providing mission management and deployment systems across multiple new launch vehicles.
FULL MISSION MANIFEST
THE COLOMBIAN AIR FORCE (FUERZA AÉREA COLOMBIANA) AND GOMSPACE, FACSAT-2
FACSAT-2, dubbed "Chiribiquete", was deployed using EXOpod Nova for the Colombian Air Force, a new government customer. FACSAT-2 is a 6U Earth observation satellite built by GomSpace.
KENYA SPACE AGENCY WITH SAYARILABS AND ENDUROSAT, TAIFA-1
TAIFA-1 was deployed using EXOpod Nova for the Kenya Space Agency and SayariLabs, a new governmental customer and an emerging space nation. TAIFA-1 is a 3U satellite built by EnduroSat and SayariLabs, and is Kenya's first Earth observation mission intended to provide disaster prevention and mitigation capabilities.
SPACE FLIGHT LABORATORY ON BEHALF OF THE NORWEGIAN SPACE AGENCY, NORSAT-TD
NorSat-TD was deployed using EXOport Europa for the Norway Space Agency. The NorSat-TD microsatellite is designed for Earth observation and technology testing and was built by Space Flight Laboratory, a well-known Canadian small satellite manufacturer with an extensive track record.
BRONCO SPACE, PLEIADES-YEARLING
Pleiades-Yearling was deployed using EXOpod Nova for Bronco Space at Cal Poly Pomona, a new customer from academia. Pleiades-Yearling is a 1U CubeSat that will test open-source CubeSat architecture and features a radiation detector demonstration payload.
STANFORD STUDENT SPACE INITIATIVE, SAPLING GIGANTEUM
Sapling Giganteum was deployed using an EXOpod Nova for the Stanford Student Space Initiative at Stanford University, a new academic customer. Sapling Giganteum is a 1U CubeSat destined to test open-source subsystems and to demonstrate the validity of the affordable COTS Google Coral Edge computing platform whilst providing students with invaluable hands-on experience.
TÜBITAK UZAY, SSS-2B
SSS-2B was deployed using EXOpod Nova for TÜBITAK UZAY, a Turkish applied research, technology development, and application-oriented institute developing indigenous subsystems for higher resolution remote sensing satellites. SSS-2B is a 3U CubeSat that will demonstrate and validate various subsystems and hosts a double Earth observation and radiation dosimeter payload.
ISILAUNCH ON BEHALF OF ORBITAL SOLUTIONS MONACO (OSM) AND THE LABORATOIRE ATMOSPHÈRES, OBSERVATIONS SPATIALES (LATMOS), ROSEYCUBESAT-1 AND INSPIRE-SAT-7
ROSEYCUBESAT-1 and INSPIRE-SAT 7 were deployed using EXOpod Nova for ISILAUNCH on behalf of OSM and LATMOS, respectively. ISILAUNCH, a fellow launch aggregator, manifested both satellites with Exolaunch. The satellites were built by the satellite manufacturer ISISPACE. ROSEYCUBESAT-1 is a 1U CubeSat with a camera payload intended for didactic purposes and INSPIRE-SAT-7 is a 2U in-orbit demonstrator intended to test EO CubeSats constellations in orbit.
ENDUROSAT ON BEHALF OF SATELIOT, 2B5GSAT
2B5GSAT, dubbed "Groundbreaker", was deployed using EXOpod for returning Bulgarian customer EnduroSat, on behalf of Spain-based Sateliot. 2B5GSAT features an in-orbit demonstration payload of an Internet of Things (IoT) communications system integrated in EnduroSat's standard 6U XL platform bus.
SPIRE GLOBAL, KAUST, FINDUSADLER-2, AND GNSS-4
Kaust, FindusAdler-2 and GNSS-4 were deployed using EXOpod Nova for Spire Global, a long-standing customer and a leading global provider of space-based data, analytics and space services delivered by one of the largest multipurpose satellite constellations in the world. Kaust hosts a hyperspectral camera with advanced on-board processing capabilities in combination with Spire's Global Navigation Satellite System-Reflectometry (GNSS-R) sensor payload that will collect intelligence on soil moisture. FindusAdler-2 is a 6U nanosatellite that hosts three payloads to detect and track orbital debris and perform air quality measurements around the globe. Finally, GNSS-4 expands on Spire's data solution constellation with GNSS sensors to gather precise data about the Earth's atmosphere, including measurements on temperature, humidity, and precipitation, as well as ionospheric electron density.
KONGSBERG NANOAVIONICS ON BEHALF OF THE DUBAI ELECTRICITY AND WATER AUTHORITY (DEWA) AND AN UNDISCLOSED CUSTOMER, DEWASAT-2 AND LS2f
DEWASAT-2 and LS2f were deployed using EXOpod Nova for returning customer Kongsberg NanoAvionics on behalf of DEWA and another undisclosed customer. DEWASAT-2 is a 6U spacecraft destined to collect multispectral imagery of the UAE region in order to monitor water quality and conduct solar park monitoring. LS2f is a 3U satellite. Both satellites were built by Kongsberg NanoAvionics, a nanosatellite bus manufacturer and mission integrator with end-to-end solutions ranging from constellations to single missions
UNSEENLABS, BRO-9
BRO-9 was deployed using EXOpod for Unseenlabs, a French leading provider in radio frequency (RF) data and solutions for Maritime Domain Awareness. BRO-9 is a 6U satellite operated by UNSEENLABS and dedicated to the monitoring of electromagnetic emissions from space. The mission extends the UNSEENLABS satellite constellation by putting another BRO-9 satellite in orbit.
PLAN-S SATELLITE AND SPACE TECHNOLOGIES, CONNECTA-T2.1
ConnectaT2.1 was deployed using EXOpod Nova for Plan-S, a returning Turkish customer and the country's largest private initiative in space, specialising in mission computers, communications subsystems, and ground interfaces in satellite systems. Connecta-T2.1 is 6U satellite hosting a ground observation and an onboard data processing payload.
ORBASTRO, ORBASTRO-AF-1
OrbAstro-AF-1 was deployed using EXOpod Nova for OrbAstro, a British customer focused on compressing the upfront cost and lead-time for companies to go to market with powerful in-orbit infrastructure. OrbAstro-AF-1 is a 6U spacecraft built for AstroForge.
SATELLOGIC, NEWSAT-36 – NEWSAT 39
Satellogic's NewSat-36 through 39 were deployed using CarboNIX following launch aboard Spacex's Transporter-7 mission. Satellogic is a leader in sub-meter resolution Earth Observation (EO) data collection. The company designs, manufactures, and operates its own constellation of EO satellites. This mission deployed four additional NewSat Mark IV satellites to the constellation, bringing the total number of spacecraft to 34 operational satellites.
About Exolaunch
Exolaunch (Germany, USA) is a global leader in rideshare launch & integration, deployment and in-space logistics products and services for the NewSpace industry. With a decade of flight heritage and 290 satellites launched across 19 missions (as of April 2023), Exolaunch leverages industry insight to tailor turnkey solutions that meet customer needs and respond to market trends. Exolaunch fulfills launch contracts for NewSpace industry leaders, the world's most innovative start-ups, research institutions, government organizations and space agencies around the world. The company develops and manufactures its own flight-proven and industry-leading small satellite separation systems, with the fastest growing heritage on the market. Exolaunch is also developing Reliant, a line of environmentally friendly orbital transfer vehicles (OTVs), for last-mile satellite delivery, in-space logistics and space debris removal. Exolaunch is committed to making space accessible to all and to promoting its safe, sustainable, and responsible use.
For more information, please visit www.exolaunch.com or reach out at info@exolaunch.com
For media inquiries, please contact media@exolaunch.com
Subscribe to follow our latest news, updates and innovations as they happen
Ready to go
to space?
Let's chat. Get in touch and we'll be with you shortly.