March, 2023
Exolaunch is Ready to Launch Over 15 Customer Satellites on SpaceX's Transporter-7 Mission from Vandenberg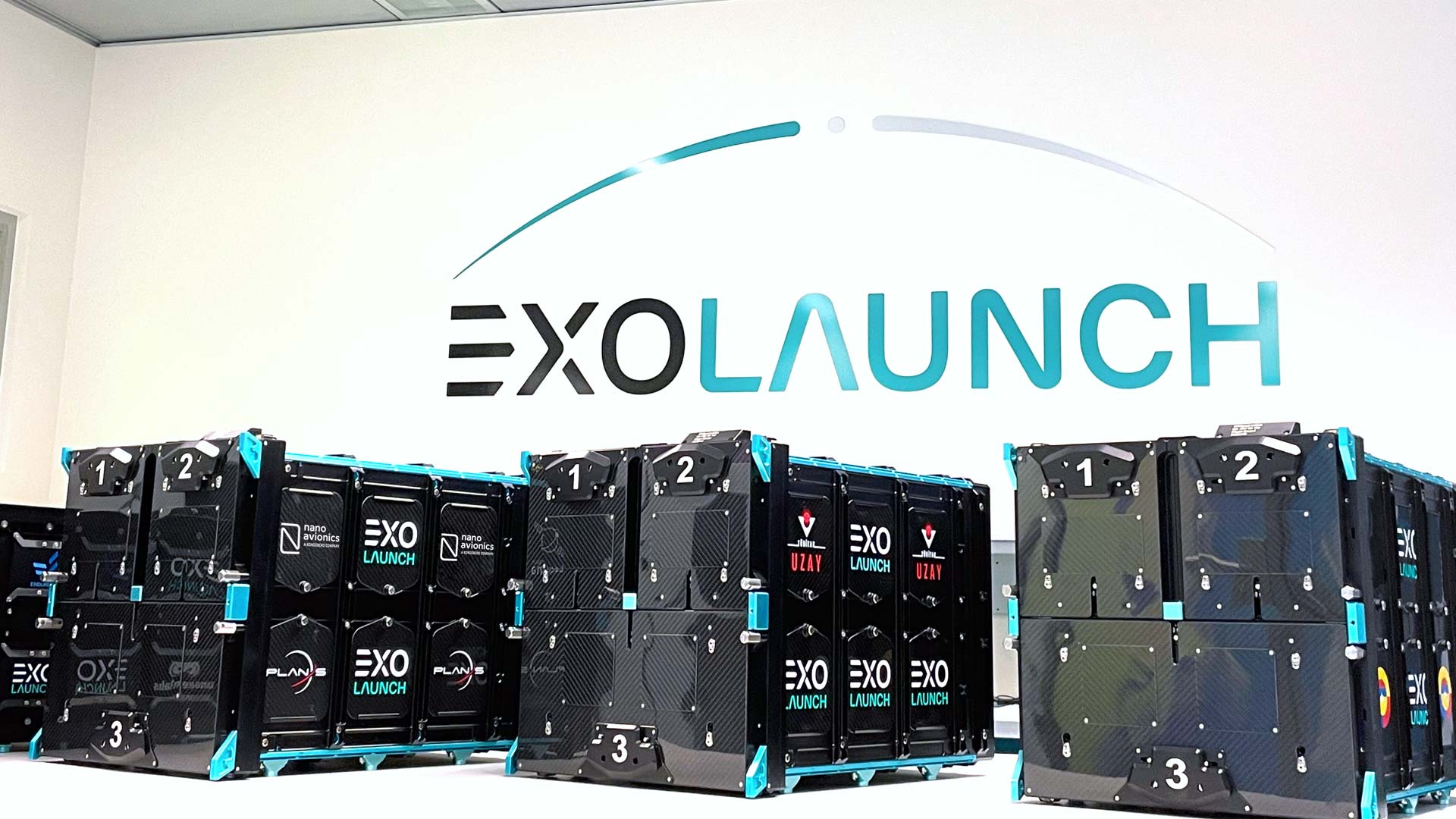 IMAGE CREDITS: EXOLAUNCH
On its 7th Transporter mission with SpaceX, Exolaunch is conducting a launch campaign for over 15 satellites for long-standing customers Spire Global, NanoAvionics, Unseenlabs, GomSpace, EnduroSat and Plan-S

Exolaunch also welcomes many new customers, including Space Flight Laboratory on behalf of the Norwegian Space Agency, TÜBİTAK UZAY, Kenya Space Agency with SayariLabs and EnduroSat, ISILAUNCH on behalf of Orbital Solutions Monaco (OSM) and Laboratoire Athmosphères, Observations Spatiales (LATMOS), Stanford Student Space Initiative, Bronco Space, the Colombian Air Force and two additional undisclosed customers

New customers account for 50% of Exolaunch's manifest on this flight

The company's EXOpod Nova enhanced CubeSat separation system and the newly designed multi-satellite adapter EXOport 'Europa' will fly on Transporter-7

Exolaunch will cross the milestone of over 285 satellites launched for its global customers
Vandenberg, California, USA / Berlin, Germany — March 23, 2023 — For its seventh dedicated rideshare mission with SpaceX, Exolaunch, a global leader in small satellite launch services, mission management and deployment systems, performed the integration of over 15 satellites for customers around the globe. The SpaceX Transporter-7 mission is scheduled for launch to a Sun-Synchronous Orbit (SSO) above 500 km from Vandenberg Space Force Base in California no earlier than April 2023. This mission features a substantially broadening customer base for Exolaunch and will bring the total number of satellites sent to space by the company to over 285.
This launch will see Exolaunch execute many newly awarded contracts, accounting for over 50% of all its customers on a manifest showcasing distinguished new clients. On this occasion, Exolaunch is honored to be entrusted with the satellites of the Norwegian Space Agency, the Colombian Air Force, and the Kenya Space Agency with SayariLabs and EnduroSat, as the governmental agencies ramp up their respective space capabilities. What's more, Exolaunch will fly satellites for the acclaimed student-run organizations, Bronco Space at Cal Poly Pomona and the Stanford Student Space Initiative at Stanford University. These new additions are also joined by numerous well-established customers, including Space Flight Laboratory on behalf of the Norway Space Agency, TÜBİTAK UZAY, fellow launch service providers ISILAUNCH on behalf of Orbital Solutions Monaco (OSM) and the Laboratoire Atmosphères, Observations Spatiales (LATMOS), as well as two additional undisclosed customers.
As with every flight, Exolaunch is very pleased to welcome returning customers, including its long-standing clients Spire Global, NanoAvionics, Unseenlabs, GomSpace, Plan-S and EnduroSat on behalf of Sateliot, all of which have previously launched with Exolaunch onboard past Transporter missions.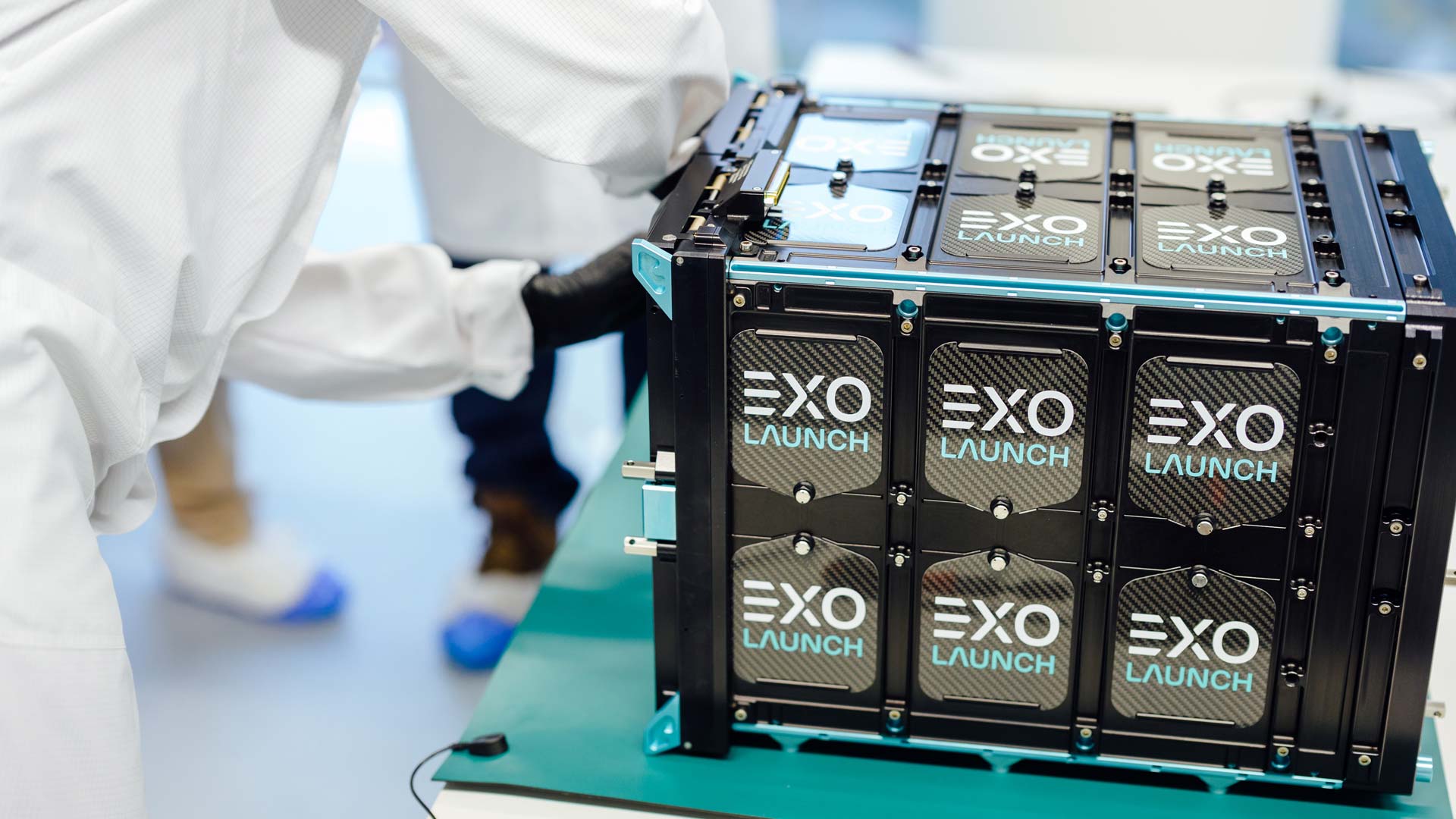 IMAGE CREDITS: EXOLAUNCH
The extensive integration campaign for Transporter-7 has already been completed for all satellites flying with Exolaunch. After a successful CubeSat integration at the company's new facilities in Berlin, the Exolaunch team finalized the integration of the remaining microsatellites with the Falcon 9 launch vehicle at the Vandenberg Space Force Base.
This is the seventh Transporter mission in a series of rideshare launches, which Exolaunch is manifesting on Falcon 9 under a Multi-Launch Agreement (MLA) with SpaceX that was first signed in 2020 and later extended to include new missions. For each Falcon 9 procured through the MLA, Exolaunch provides a turnkey solution encompassing industry-leading mission management & satellite integration services in addition to its flight-proven separation systems. Exolaunch has manifested on every Transporter mission since the program's inception, deploying over 150 microsatellites and CubeSats through the dedicated rideshare program. Transporter-7 is the latest addition to Exolaunch's streak of ever-more diverse manifests, strengthening its position as a trusted and reliable launch & deployment service provider.
To maximize payload capacity and cost-effectiveness for each customer, Exolaunch uses the EXOport, a flexible multi-satellite adapter tailored to optimally accommodate multiple microsats and CubeSats on a single Falcon 9 port.
Customer CubeSats will be launched using the flight-proven EXOpod Nova, the most recent addition to the EXOpod family of CubeSat deployment systems. First flown on Transporter-5 and Transporter-6, Nova enhances the EXOpod design with superior specifications. Nova increases the allowable satellite mass by up to 30% and the available side panel volume by a factor of 4 compared to traditional CubeSat deployment systems. It also enables CubeSat manufacturers to keep launch costs low while building larger, heavier, and more capable satellites. Nova has already become the deployer of choice for CubeSats, bringing the EXOpod family's record to 186 satellites successfully deployed as of March 2023.
"As always, we are entirely focused on delivering a smooth launch experience for each and every customer. This time around, we were delighted with the opportunity to welcome both well-known and new faces in our brand-new integration facilities in Germany," said Jeanne Allarie, VP Launch at Exolaunch. "The entire team is particularly proud of our work with SpaceX on the Transporter program and being able to offer access to space that is unrivalled in its regularity and cost-effectiveness!"
"The integration proceeded flawlessly for all customer satellites," said Michael Tolstoj, Mission Director at Exolaunch. "Our team works hand in hand with our customers throughout stringent validation and testing processes, so it's a great experience to take the final step together. It speaks volumes to the advantages of the Nova deployer that it was chosen to fly all the CubeSats manifested by our new customers. On the other hand, SpaceX has been a marvelous launch provider and an inestimable force to revolutionize access to space!"
This year promises to be Exolaunch's busiest yet: With customers manifested aboard multiple launch vehicles and every SpaceX Transporter mission in 2023, the German launch service provider is poised to achieve the significant milestone of the 300th satellite launched into orbit.
About Exolaunch
Exolaunch (Germany, USA) is a global leader in rideshare launch & integration, deployment and in-space logistics products and services for the NewSpace industry. With a decade of flight heritage and 269 satellites launched across 18 missions (as of March 2023), Exolaunch leverages industry insight to tailor turnkey solutions that meet customer needs and respond to market trends. Exolaunch fulfills launch contracts for NewSpace industry leaders, the world's most innovative start-ups, research institutions, government organizations and space agencies around the world. The company develops and manufactures its own flight-proven and industry-leading small satellite separation systems, with the fastest growing heritage on the market. Exolaunch is also developing Reliant, a line of environmentally friendly orbital transfer vehicles (OTVs), for last-mile satellite delivery, in-space logistics and space debris removal. Exolaunch is committed to making space accessible to all and to promoting its safe, sustainable, and responsible use.
For more information, please visit www.exolaunch.com or reach out at info@exolaunch.com
For media inquiries, please contact media@exolaunch.com
Subscribe to follow our latest news, updates and innovations as they happen
Ready to go
to space?
Let's chat. Get in touch and we'll be with you shortly.