April, 2022
Exolaunch is Ready to Launch on SpaceX's Transporter-4 Mission Surpassing the Milestone of 200 Satellites in Flight Heritage
On its fourth rideshare mission with SpaceX the company successfully completed the launch campaign for 12 satellites from nine countries, including satellites from NanoAvionics, Omnispace, Thales Alenia Space, UNSEENLABS, Satellogic, Pixxel, Norwegian Defence Research Establishment (FFI), Spacemanic, and the University of Brasilia

Exolaunch's customer satellites will be deployed into two target orbits on a single Falcon 9 mission

Exolaunch's novel CarboNIX 8-inch enhanced microsat separation system to fly on Transporter-4

The company to cross the milestone of 200 satellites launched for its global customers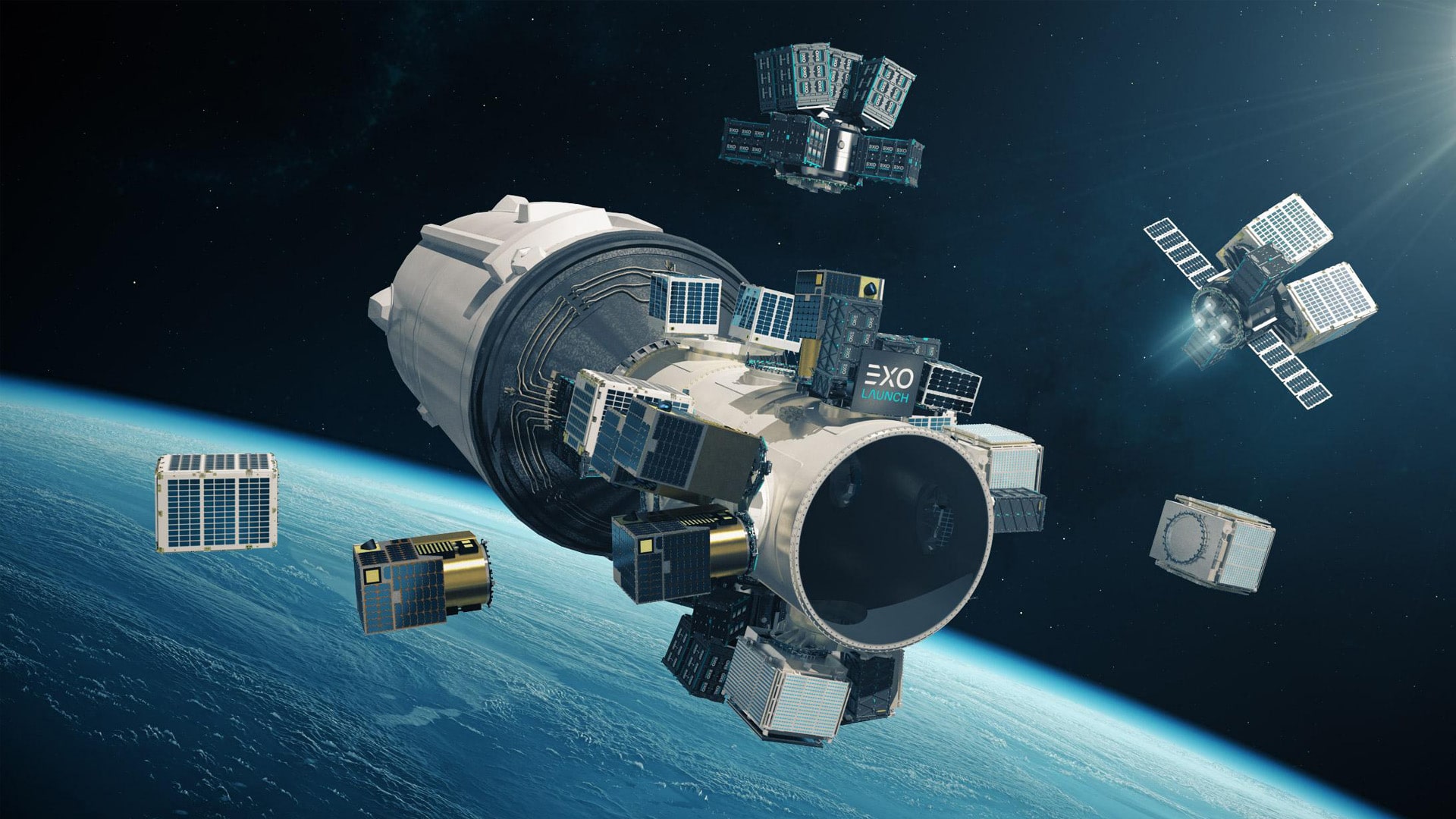 IMAGE CREDITS © EXOLAUNCH
Cape Canaveral, Florida, USA / Berlin, Germany – April 1, 2022 - For its upcoming fourth dedicated rideshare mission with SpaceX, Exolaunch, the leading global provider of launch, in-space logistics and deployment services, successfully completed the integration for 12 satellites from customers across the globe. The SpaceX Transporter-4 mission is scheduled for launch on April 1 from Cape Canaveral. This mission will bring the total number of satellites sent to space by Exolaunch to over two hundred.
The upcoming Falcon 9 launch will be performed in the interests of the company's new and returning customers such as NanoAvionics, Norwegian Defence Research Establishment (FFI), UNSEENLABS, Omnispace, Thales Alenia Space, Satellogic, Pixxel, Spacemanic and the University of Brasilia (UnB). With small satellite deployment into two different orbits on a single mission of Falcon 9 and the debut flight of the newest CarboNIX 8-inch microsat separation system, this will be the most trailblazing Transporter mission yet for Exolaunch.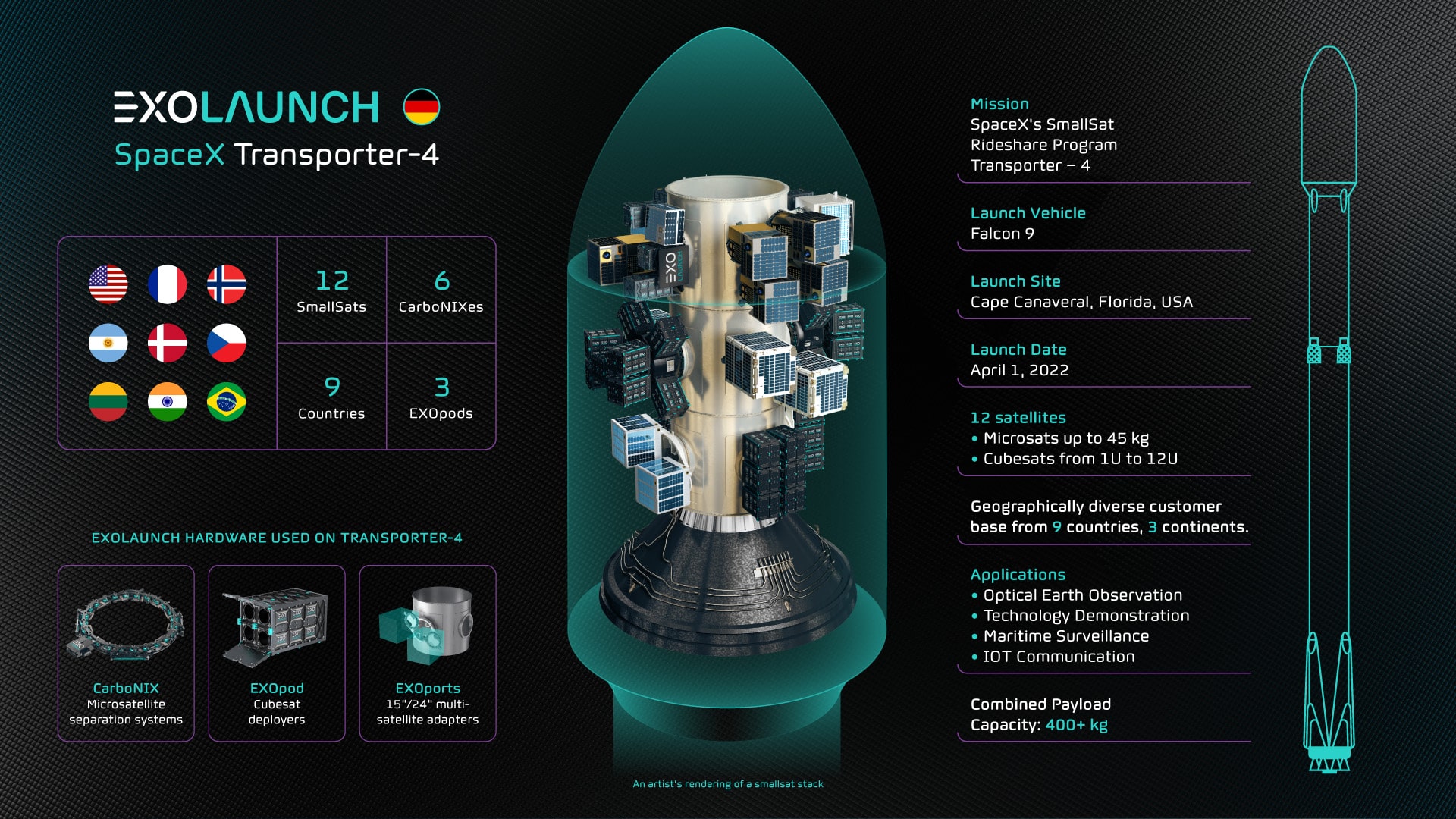 IMAGE CREDITS © EXOLAUNCH
"Exolaunch is proud to offer our customers the most innovative and cutting edge products to enhance their launch experience. This will be the first Transporter mission offering customer-centric access to two orbits within one rideshare mission, demonstrating Exolaunch's agile response to the growing smallsat market demands," said Kier Fortier, Launch Director at Exolaunch USA. "We are thrilled to collaborate with SpaceX on yet another launch as we remain at the forefront of the launch services for the market. We look forward to upgrading and extending the portfolio of our launch offerings to enable the mission success of our customers."
The mission is the fourth Transporter mission in a series of rideshare launches, in which Exolaunch is manifesting on Falcon 9 under a Multi-Launch Agreement with SpaceX first signed in 2020 and extended at the end of 2021. For each Falcon 9 launch procured through the Multi-Launch Agreement, Exolaunch provides a turnkey solution encompassing comprehensive rideshare mission management, satellite integration, environmental testing and deployment services. Exolaunch has deployed nearly 100 microsats and cubesats on SpaceX's first three record-breaking dedicated rideshare Transporter missions.
To maximize payload capacity and cost-effectiveness for their customers, Exolaunch uses its recent product addition, EXOport, a flexible multi-satellite adapter designed to optimally accommodate microsats and cubesats on a single Falcon 9 port. Exolaunch also uses its proprietary flight-proven separation systems CarboNIX, a next generation shock-free separation system with 100% reliability, that to date has successfully separated 24 microsats, and the EXOpod, Exolaunch's cubesat deployer with a heritage of 139 deployed satellites.
Exolaunch's manifest on the Transporter-4 mission includes the following payloads and companies:
SPARK 1 from Omnispace (USA)
Designed and built by Thales Alenia Space in conjunction with NanoAvionics, Syrlinks & ANYWAVES, this new-generation NGSO satellite will operate in the 2 GHz S-band. Omnispace Spark 1 will support the mobile industry 3GPP standard, making connectivity possible direct to compatible devices. This program will serve to advance the development and implementation of Omnispace's global hybrid non-terrestrial (NTN) network.
MP42 from NanoAvionics (USA, UK & Lithuania)
The first ring-deployed microsat of NanoAvionics carrying payloads from 5 different companies. The hardware and software of MP42 satellite bus, as well as mission operations infrastructure, are established on baseline architecture and mission-specific "building blocks" for flexible, time- & cost-efficient integration, resulting in wide applicability, reliability, repeatability, and manufacturability.
SHAKUNTALA from Pixxel (USA & India)
This is a hyperspectral Earth imaging satellite. The constellation is designed to provide global coverage every 24 hours, with the aim of detecting, monitoring and predicting global phenomena.
BDSAT from Spacemanic (Slovak Republic) and BD Sensors (Czech Republic)
BDsat project aims to support the radio amateur community with several HAM services and activities. Secondary goal is a verification of a prototype of pressure measuring equipment and to verify the functionality of this technology in open space conditions.
ALFACRUX from the University of Brasilia (Brazil)
Developed by UnB and manufactured by Alen Space, the AlfaCrux satellite is designed for educational and technical investigations of narrowband communication and its applications carried out by researchers, students, and amateur radio operators interested in radio technique without pecuniary interest. Possible in-orbit technical demonstrations include digipeater solutions, scintillation impacts in the satellite communication link, and data collection systems.
BRO-7 from UNSEENLABS (France)
The seventh satellite of UNSEENLABS' constellation dedicated to the geolocation of vessels at sea. UNSEENLABS processes and analyzes the RF data, and provides unique knowledge for national security operations, for environmental protection and for an increasing number of applications in the commercial sector. Their constellation is designed to provide data to clients to follow maritime traffic, regardless of the time of day and weather conditions.
ARCSAT from the Norwegian Defence Research Establishment (FFI) (Norway)
A GomSpace manufactured nanosatellite designed to demonstrate the use and relevance of a satellite relay for UHF communication at high latitudes. The satellite will be able to cover any point on the Earth's surface ranging from 4 up to 15 daily passes at higher latitudes from a polar orbit.
5 x NEWSAT MICROSATS from Satellogic (USA & Argentina)
The mission will include the first deployment of Satellogic's new Mark V satellite model. This new generation of satellites enhances the company's constellation with improved cameras, radios, computers, and other subsystems compatible with all components from previous models, offering Satellogic's customers higher quality products. The remaining satellites are four updated NewSats Mark IV. These improved satellites contain increased onboard storage and upgrades to the propulsion and navigation systems. This launch will expand Satellogic's fleet to 22 satellites delivering high-resolution data from space.
About Exolaunch
Exolaunch (Germany, USA) is a global leader in rideshare launch, deployment, in-space logistics, and integration services for the NewSpace industry. With a decade of flight heritage and close to 200 satellites launched on 14 missions on launch vehicles around the world, Exolaunch has an industry insight it can leverage to develop one-stop-shop solutions tailored towards meeting customer needs and addressing market trends. Exolaunch executes launch contracts for NewSpace leaders, the world's most innovative startups, research institutions, government organizations, and space agencies. Exolaunch manufactures lightweight and flight-proven separation systems to deliver integration and deployment services for small satellites. The company is also developing a line of environmentally-friendly orbital transfer vehicles named Reliant for the satellite last-mile transportation, in-space logistics and space debris removal. Exolaunch is committed to making space accessible for everyone and to promoting safe, sustainable and responsible use of space.
For more information, visit: www.exolaunch.com or get in touch at info@exolaunch.com
For media queries, please contact media@exolaunch.com
Subscribe to follow our latest news, updates and innovations as they happen
Ready to go
to space?
Let's chat. Get in touch and we'll be with you shortly.