January, 2022
Hat-trick for Exolaunch with SpaceX Transporter Missions
Exolaunch's Most Technologically and Geographically Diverse Mission of Smallsats Launched via SpaceX's Transporter-3 Rideshare Mission

Company Completed International Launch Campaign for 29 Satellites, Including Microsatellites, Cubesats up to 16U and PocketQubes

New and Returning Customers from Four Continents and Seventeen Countries
Cape Canaveral, Florida, USA / Berlin, Germany - January 27, 2022 - In its third dedicated rideshare mission with SpaceX, Exolaunch, the leading global provider of launch, in-space logistics and deployment services, successfully integrated and launched 29 small satellites from customers across the globe. The company's rideshare clusters aboard the SpaceX Transporter-3 mission were an amalgamation of microsats, cubesats (up to 16U) and PocketQubes. The combination of customers from 17 countries across four continents, and an unprecedented number of very sophisticated payloads made it the most technologically rich and geographically spread integration effort for the company yet.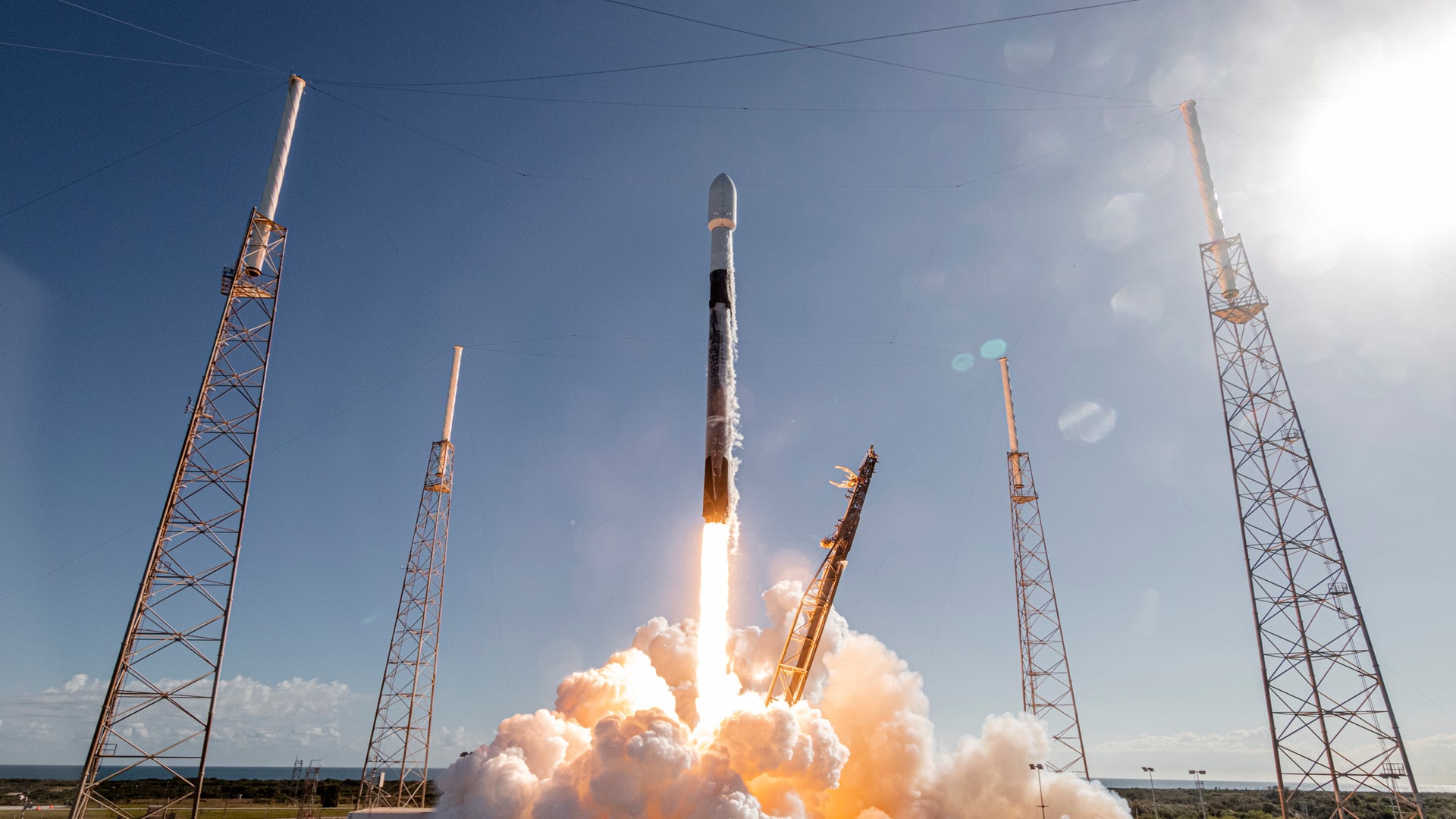 IMAGE CREDITS © SPACEX
Exolaunch's rideshare customers' payloads have top-notch technologies for the Internet of Things (IoT), Maritime Surveillance, Ultra HD Video Streaming, Synthetic-Aperture Radar (SAR) Earth Observation, and Science and Education.
The eclectic company medley incorporated returning customers such as NanoAvionics and ICEYE, as well as many notable new customers such as Sen, Unseenlabs, Lunasonde, NuSpace, FOSSA Systems and Alba Orbital. The companies behind this plethora of satellites are based in the USA, Finland, Great Britain, France, Lithuania, Spain, Scotland, Singapore, Argentina, Brazil, Germany, Israel, Nepal, the Netherlands, Norway, Turkey, and the UAE.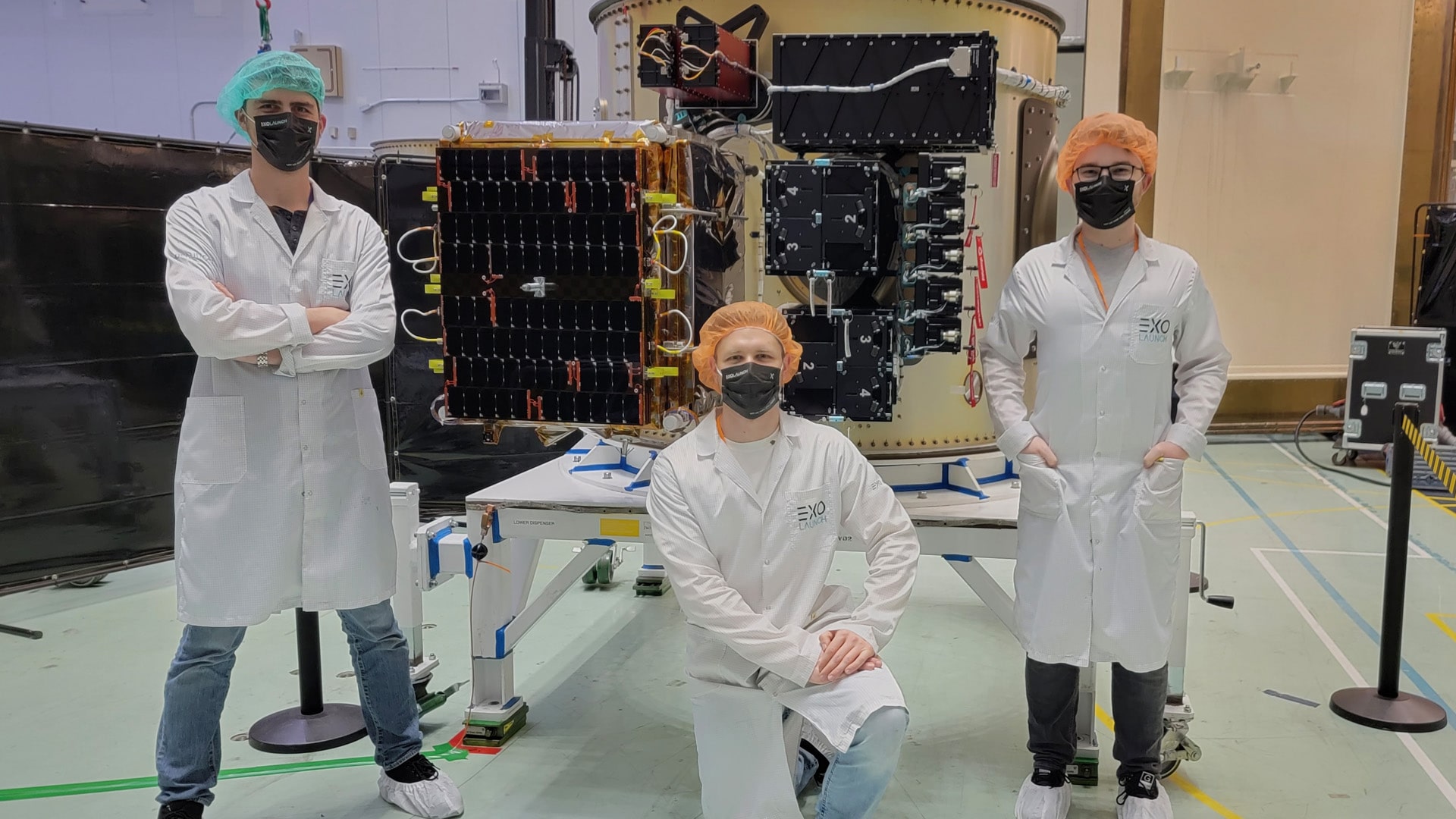 IMAGE CREDITS © SPACEX
The launch of these 29 satellites brought the total number of satellites sent to space by Exolaunch close to two hundred.
"Never before have we integrated such a variety of satellites for a single mission," said Connor Jonas, Mission Director at Exolaunch. "This is a tremendous achievement by our mission management team. They had to overcome some unique challenges to get to this point. Thankfully, we have some excellent partners and a very capable team that made it possible to deliver all satellites on time. And the cooperation with the team at SpaceX and their support continues to be outstanding."
This mission was also the third in a series of rideshare launches, which Exolaunch is manifesting on Falcon 9 as part of a Multi-Launch Agreement, which the company first signed with SpaceX in 2020 and extended at the end of 2021. For every Falcon 9 launch procured through this agreement, Exolaunch provides an end-to-end solution encompassing comprehensive rideshare mission management, satellite integration, and deployment services. Exolaunch has launched 59 satellites weighing nearly 1,500 kg on SpaceX's first two record-breaking dedicated rideshare Transporter missions in 2021.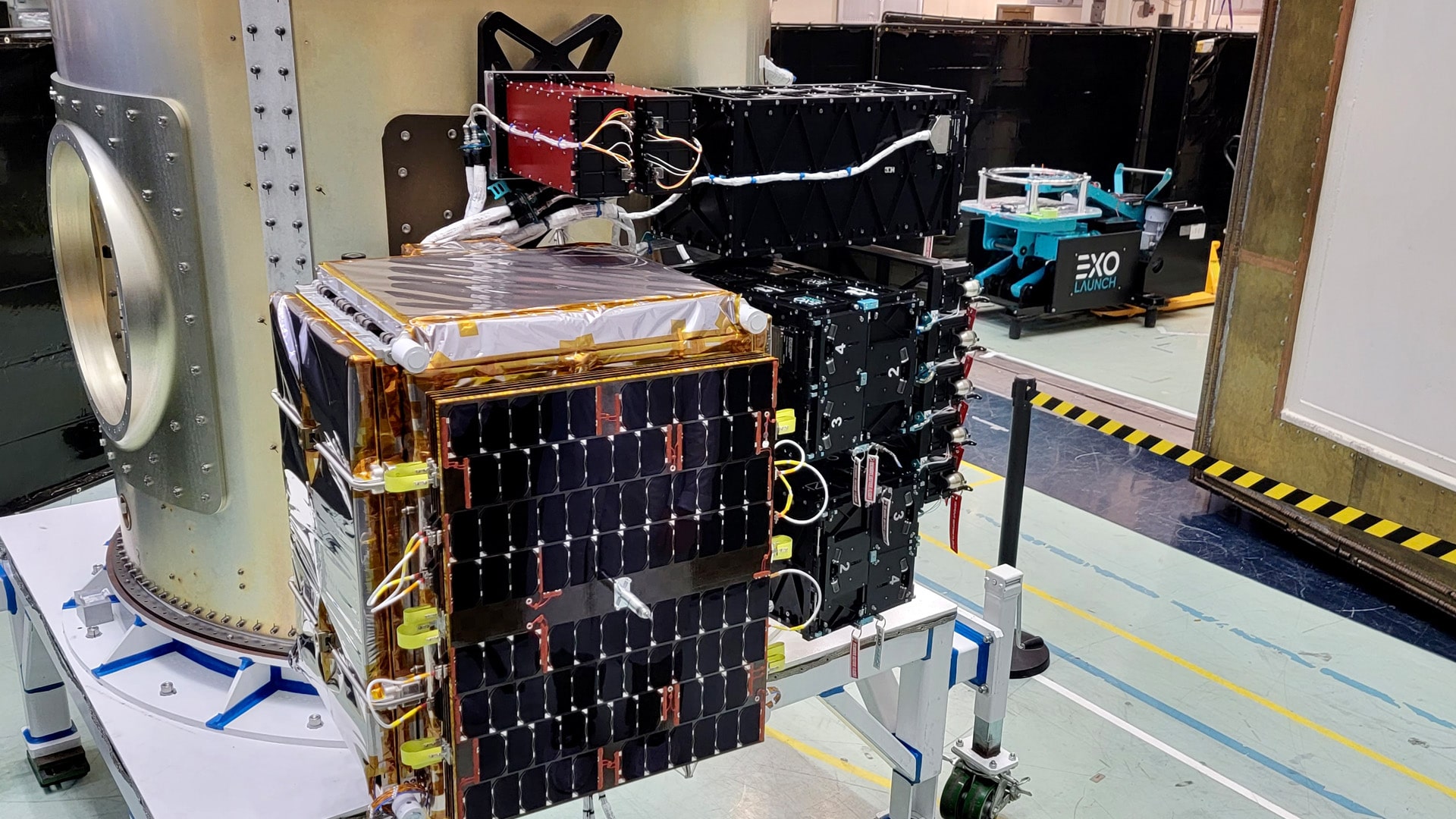 IMAGE CREDITS © SPACEX
To maximize payload capacity and cost-effectiveness for their customers, Exolaunch used its recent product addition, EXOport, a flexible multi-satellite adapter designed to optimally accommodate microsats and cubesats on a single Falcon 9 port. Exolaunch also used its proprietary flight-proven separation systems CarboNIX, a next generation shock-free separation system, that to date has successfully separated 24 microsats, and the EXOpod, Exolaunch's upgraded deployer with a heritage of 139 deployed cubesats.
Michael Tolstoj, Mission Director at Exolaunch said: "Transporter-3 was another remarkable mission illustrating what our business is all about: Bringing together an unprecedented variety of technology from an ever-growing number of nations to help people shape the future of the planet with their ideas. It shows that our service is recognized by industry leaders as well as a growing base of recurring and new customers. Once again, our team has demonstrated technical creativity paired with a keen sense for the needs of our customers and the zeitgeist of the industry. And this is just the beginning."
Starting next year, thanks to the entry of the Reliant orbital transfer vehicle into the space tug market, Exolaunch will be able to meet some of the most ambitious requirements of its customers who wish to deploy satellite constellations to custom orbits by adjusting altitude, inclination, LTAN (longitude of the ascending node), and performing orbital phasing. Reliant is designed to deorbit shortly after deployment completion, minimizing the risks of space collisions and mitigating orbital debris. Future generations of Reliant will also be able to perform on-demand active debris removal.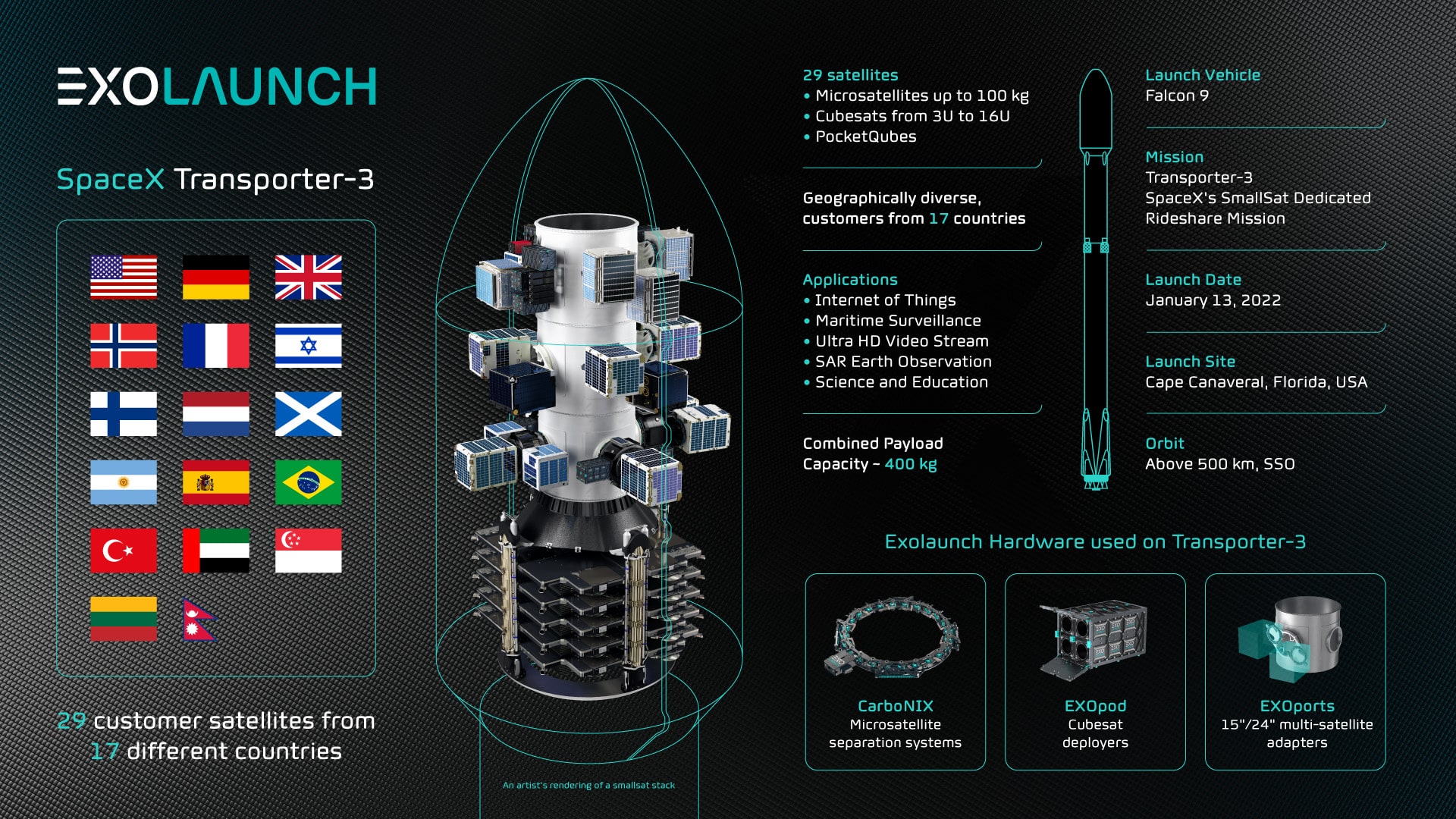 IMAGE CREDITS © EXOLAUNCH
Exolaunch has manifested the following satellites on the Transporter-3 mission:
2 x ICEYE satellites
Two more satellites of an advanced radar imaging satellite constellation built and operated by ICEYE. ICEYE's constellation represents the world's first small SAR satellite constellation and the largest fleet of SAR satellites in the world. ICEYE's SAR satellite constellation provides different angle imaging multiple times a day for specified areas of interest. It is constantly growing and will provide previously unavailable imaging capabilities and access, allowing quick tactical acquisitions as well as very frequent global revisit rates.
1 x Sen satellite
Sen's ETV-A1 Earth Observation satellite aims to livestream multiple perspectives of Earth with Ultra-High-Definition (UHD) video. The satellite can stream UHD video in real-time or record videos and downlink them during ground station passes. The satellite bus was built by NanoAvionics.
1 x satellite of The Norwegian University of Science and Technology
HYPSO-1 is a satellite by the Norwegian University of Science and Technology designed as a research project with a hyperspectral imager. The satellite bus was built by NanoAvionics.
1 x Unseenlabs satellite
BRO-5 is Unseenlabs' 5th satellite aimed at improving the capabilities of the French company's Maritime Surveillance constellation of 25 satellites.
1 x DEWA satellite
DEWA-SAT 1 is the first satellite by the Dubai Electricity & Water Authority (DEWA) carrying a Software Defined Radio payload designed to receive LoRa (long range) protocol messages. The satellite bus was built by NanoAvionics.
1 x Lunasonde satellite
Gossamer Piccolomini is part of the Gossamer constellation aimed at pioneering subsurface imaging while providing a sustainable approach to resource exploration.
1 x NuSpace satellite
NuX-1 is a Singaporean tech demo satellite designed and built by NuSpace to provide IoT connectivity to areas with limited to non-existent communications infrastructure thanks to the incorporated IoT LoRaWAN (long range wide area network) payload.
13 x Alba Orbital satellites
With the largest PocketQube launch in history, and with satellites manifested from a total of eight different countries, Alba launched pico-satellites from InnovaSpace (Argentina), TU Delft (Netherlands) and Ariel University (Israel). This mission is also an important milestone for the Turkish and Brazilian NewSpace sector, as they are launching their first pico-satellites. These have been developed by Brazilian startup, PION Labs, and Turkish student team, Grizu-263.
DELFI-PQ: Satellite by the Delft University of Technology, Aerospace Engineering Faculty, for education and research.
EASAT-2 and HADES: Satellites by AMSAT EA (Spain's national amateur radio society) with the purpose of conducting an amateur radio communication experiment.
5 x UNICORNs: Satellites by Alba Orbital designed for: UNICORN-1: Tech demonstration of a new UHF radio system, UNICORN-2A: Earth Observation and UNICORN – 2D: commercial Earth Observation, UNICORN-2E: Commercial Earth Observation and UNICORN-2TA1: Orbital edge computing demonstrator satellite.
2 x SATLLA: Two educational satellites by the Israeli Ariel University designed for: SATLLA-2A: testing the concepts of Free Space Optical Communication and SATLLA-2B: introducing students to the "NewSpace" frontier with hands-on practice.
GRIZU-263A: A satellite developed for educational and technology demonstration of a passive magnetic control subsystem by Turkey's Grizu-263 Space Team.
PION-BR1: A satellite by Brazilian company PION Labs Engenharia Ltda. designed for an IoT technology demonstration.
MDQUBESAT-1: A satellite by Innova Space (Argentina) designed for an IoT technology demonstration.
8 x FOSSA Systems satellites
Eight FOSSA PocketQube customer satellites, six of which will be using FOSSASat-2E's high performance picosatellite platform. The Swiss cybersecurity, AI and IoT firm WISeKey's WISeSAT-1 and WISeSAT-2 satellites were manufactured by FOSSA Systems. WISeSat satellites (WISeSat.Space) will offer its customers IoT technology in a SaaS (software-as-a-service) model that enables IoT communications along with authentication and encryption.
6 x FOSSASAT satellites: FOSSASAT-2E1 / WISESAT-1, FOSSASAT-2E2 / WISESAT-2, FOSSASAT-2E3 / PILOT-1, FOSSASAT-2E4 / LAIKA, FOSSASAT-2E5 / MSRSAT-1 and FOSSASAT-2E6 are designed for the IoT Message Repeater and Platform Demonstrator.
CHALLENGER: A satellite by Mini-Cubes (USA), CHALLENGER designed to serve as an experimental demonstrator of a windform structure, and carries Earth Observation payload.
SANOSAT-1: An experimental amateur satellite by ORION Space (Nepal) designed for passive based attitude control and a radiometer.
IMAGE CREDITS © EXOLAUNCH
About Exolaunch
Exolaunch (Germany, USA) is a global leader in rideshare launch, deployment, in-space logistics, and integration services for the NewSpace industry. With a decade of flight heritage and close to 200 satellites launched on 14 missions on launch vehicles around the world, Exolaunch has an industry insight it can leverage to develop one-stop-shop solutions tailored towards meeting customer needs and addressing market trends. Exolaunch executes launch contracts for NewSpace leaders, the world's most innovative startups, research institutions, government organizations, and space agencies. Exolaunch manufactures lightweight and flight-proven separation systems to deliver integration and deployment services for small satellites. The company is also developing a line of environmentally-friendly orbital transfer vehicles named Reliant for the satellite last-mile transportation, in-space logistics and space debris removal. Exolaunch is committed to making space accessible for everyone and to promoting safe, sustainable and responsible use of space.
For more information, visit: www.exolaunch.com or get in touch at info@exolaunch.com
For media queries, please contact media@exolaunch.com
Subscribe to follow our latest news, updates and innovations as they happen
Ready to go
to space?
Let's chat. Get in touch and we'll be with you shortly.