December, 2021
Exolaunch's Year in Review 2021
Prepared for SatMagazine's December 2021 special edition: Year in Review 2021
2021 started for Exolaunch with record-breaking missions and has been significant in all aspects of the company's activities. Growing commercially, technologically and geographically, Exolaunch strengthened not only its posture on the smallsat launch services market but also added new weight by extending Exolaunch's global presence, product portfolio and team.
In less than a decade, Exolaunch has quickly evolved into a global leader in launch services, separation systems and in-space logistics for smallsats, empowering the global space economy by providing turnkey launch solutions for an exponentially growing smallsat market. To date the company has launched and successfully deployed 170 smallsats across 13 missions for 30+ customers from all over the world, including the most demanding top industry leaders.
Exolaunch entered 2021 with a tremendous success of launching 30 satellites on the record-breaking Transporter-1 as part of the first of SpaceX's dedicated rideshare missions. Named 'Zeitgeist', Spirit of the Times, this Exolaunch rideshare symbolized the company's swift response to the smallsat market demands in disruptive, competitive and cost-efficient launch services. A direct result of collaboration and synergy between SpaceX and Exolaunch, this mission revolutionized the entire architecture of launch offerings and solutions. Zeitgeist lifted off on January 24 on Falcon 9, completing one of the most diverse rideshare missions for Exolaunch under the company's multi-launch agreement with SpaceX signed in late 2020. Among the customers were the German Aerospace Center (DLR), Dresden Technical University (TU Dresden), ICEYE, NanoAvionics and other commercial companies for IoT, Earth observation and scientific applications. Based on this mission Exolaunch demonstrated how successfully and with the highest level of customization to every mission requirement the company handles large cluster launches.
In less than six months, Exolaunch then delivered 1000 kg of satellites on SpaceX's Transporter-2 mission to SSO. The Exolaunch's mission, named 'Fingerspitzengefühl', lifted off on June 30 on Falcon 9, completing one of the largest rideshare missions for Exolaunch. Fingerspitzengefühl symbolized Exolaunch's vast experience in skillfully deploying customers' satellites into orbit, inherent to Exolaunch ingenuity that the company has demonstrated once again. Exolaunch's small satellite cluster of 29 satellites included satellites from its international customers such as Spire Global, ICEYE, Loft Orbital, NanoAvionics and Berlin Technical University (TU Berlin). Exolaunch also provided flight hardware, separation systems and integration services to support Satellogic's four microsats on this mission. In total, 10 microsats were launched with CarboNIX and 19 cubesats were deployed using EXOpods on this huge mission, showcasing Exolaunch's mastery of rideshare launches and SpaceX's outstanding reliability and partnership.
Across both rideshares 59 satellites from Exolaunch's customers were flown, all with Exolaunch hardware. To maximize payload capacity and cost-effectiveness for its customers, Exolaunch utilized its brand-new product, the EXOport, which is a flexible multi-satellite adapter designed to enable optimal accommodation of microsats and cubesats on the Falcon 9 ESPA ports, its proprietary flight-proven separation systems (CarboNIX, the next generation shock-free separation system for microsats, upgraded modifications of EXOpod cubesat deployers), as well as its EXObox sequencers, to flawlessly deploy its customers' satellites into the target orbit.
In 2021 Exolaunch extended its line of CarboNIX shock-free microsat separation systems by adding to the existing 15" also the scaled smaller 8" and bigger 24" rings responding to the customer needs and market demands. Both new CarboNIX 8" and 24" systems will be launched on Falcon 9 in the first half of 2022 and will separate satellites for Exolaunch's customers. In addition to this, Exolaunch is developing customized CarboNIXes planned for launch next year.
Exolaunch is also working on a new series of EXOpod cubesat deployers that will transform the approach to building and launching cubesats. On this, Exolaunch will make a separate announcement upon finalization of the programmed development.
EXOpod cubesat deployers and CarboNIX microsat separation systems are not only the pillars of the company's operations but are seen as a benchmark on the market being the most advanced deployment technologies in their segment to date. Developed in-house hardware can be customized based on specific dimension requirements posed by Exolaunch's customers planning to deploy their satellite constellations.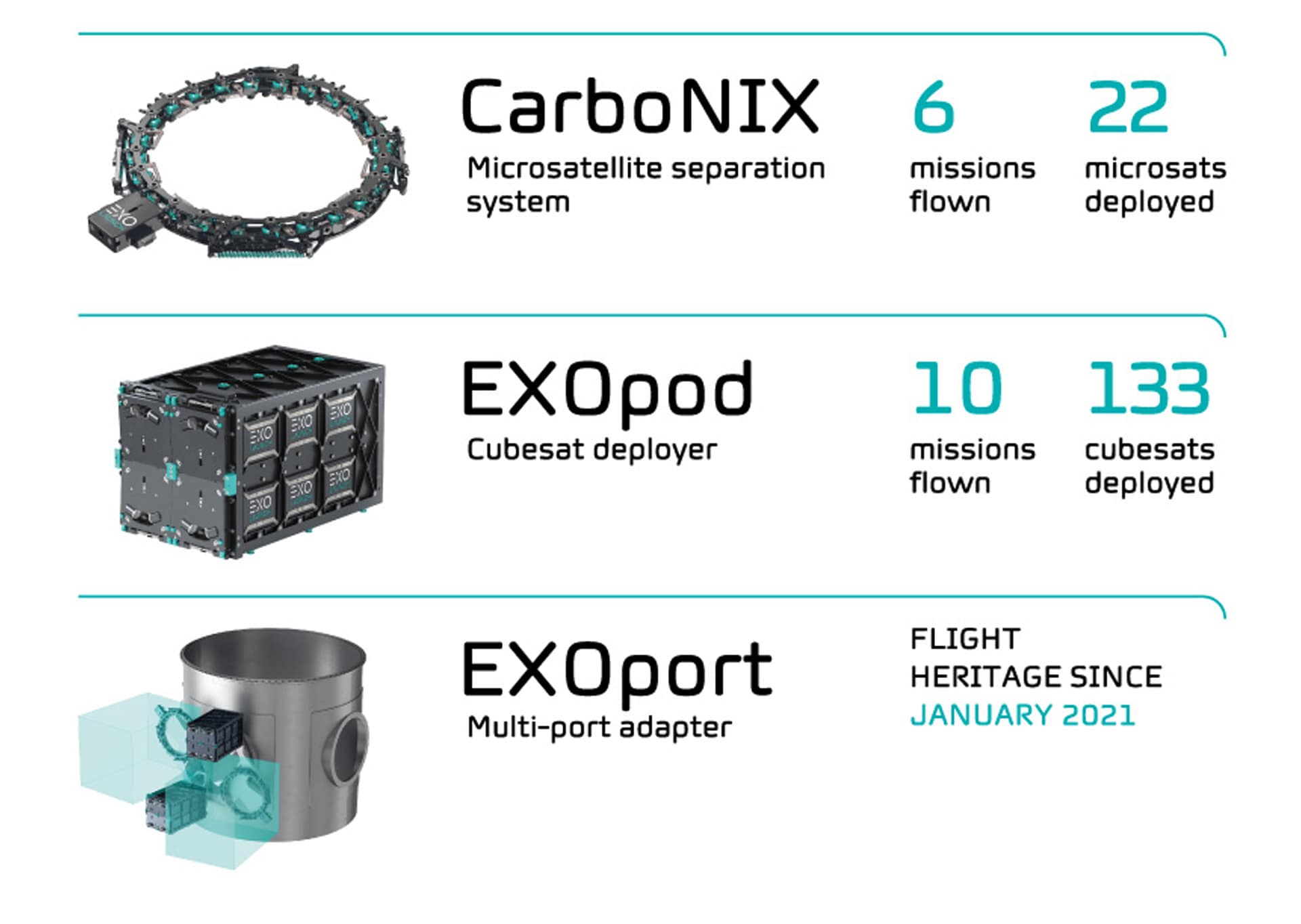 Currently Exolaunch is preparing for the Transporter-3 mission with SpaceX, having completed integration of a large number of cubesats ranging from 3U to 16U in Berlin and preparing to depart to the launch site for final integration of microsats and cubesats for the company's international customers launching with Falcon 9.
As a special highlight of 2021, Exolaunch is proud of signing a new rideshare multi-launch agreement for the next two years with SpaceX. About 95% of Exolaunch's slots on Transporter missions in 2022 is already booked out by current and new customers – a sign of growth, high demand in Exolaunch state-of-the-art technologies, and enormous trust reposed in the company by the market. Exolaunch customer satellites will be launched on all Transporter missions in 2022 and deploy over 3000 kg of payload mass totaling 100+ satellites on Falcon 9 in 2022 alone. A lot of newly upgraded Exolaunch hardware for cubesats and microsats will be used to deploy the most precious satellites into the orbit.
At the same time, Exolaunch is preparing for its rideshare missions on Soyuz for customers from North America, Europe and Japan with provision of custom target orbits for separation. The company successfully conducted all key preparatory activities for customers of the upcoming Soyuz mission and is currently planning the launch campaign. On Soyuz, Exolaunch has launched over 100 satellites using its unique hardware. The company is also preparing for its PSLV launch campaign.
Exolaunch is also constantly expanding its launch vehicle manifest and maintaining close contacts with the entire market. In 2021 Exolaunch signed many international launch services agreements, and agreements for provision of deployment systems and Reliant. This year, the company has already announced agreements with FireFly Aerospace in the US, HyImpulse in Germany and Gilmour Space in Australia. By securing these partnerships with emerging launch vehicle providers, Exolaunch customers will gain access to an even more diverse palette of launch opportunities, including more accessible orbits, a bigger variety of launch windows, higher flexibility, and access to any world's launch pad.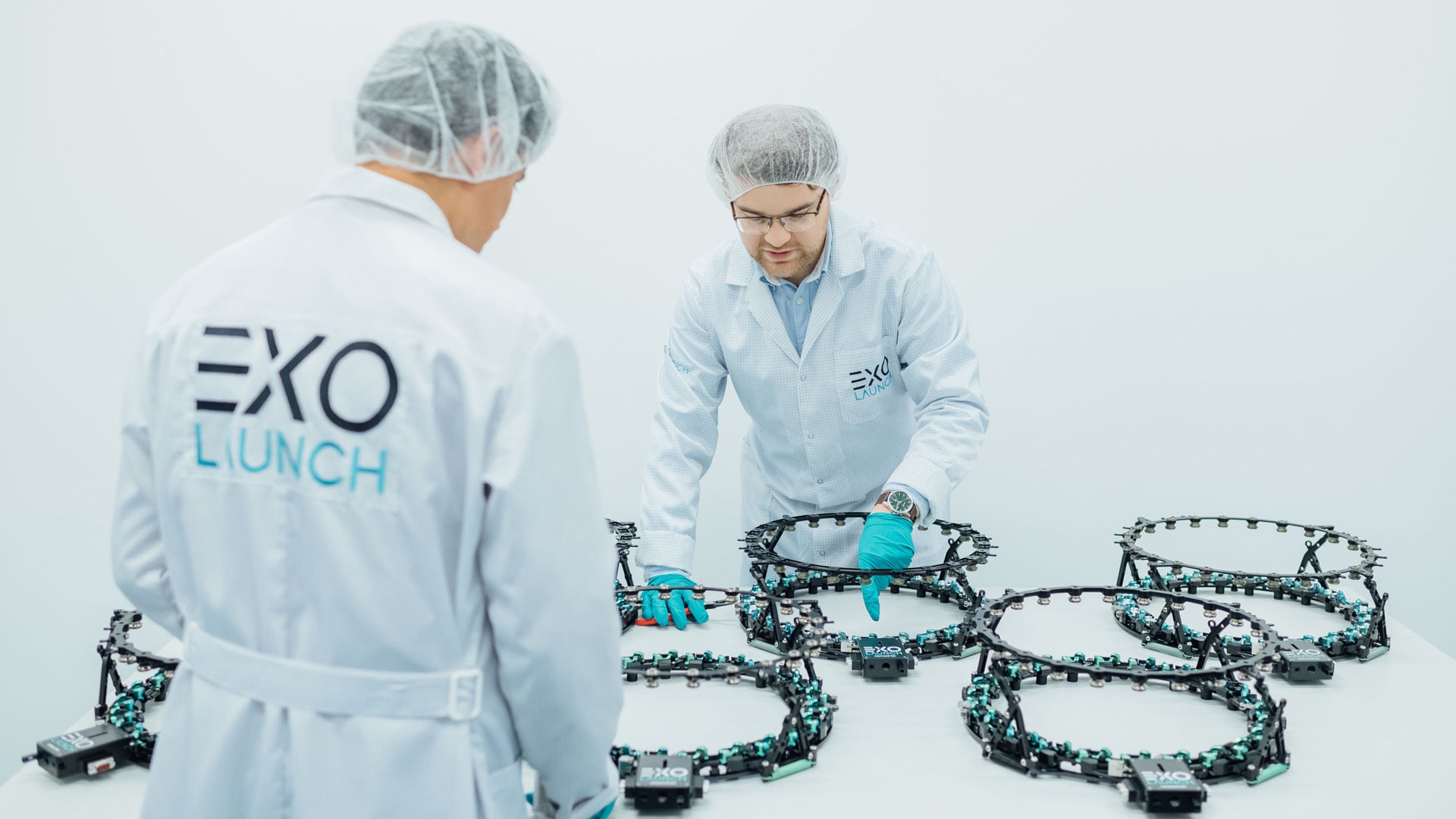 Exolaunch, being one of the most innovative companies and trendsetters on the space logistics market, is dedicated to making a lasting good impact and optimizing performance. For this, in early 2021, the company introduced its eco space tug program - one of the most important highlights of the year. A new line of revolutionary orbital transfer vehicles (OTVs) named Reliant will become the enabler of custom destinations to supplement Exolaunch's launch services offerings and facilitator of space debris removal programs with its Pro version. The company is actively working on the development of Reliant and its first demo missions to become a leader in orbital transportation, offering reliable solutions to the smallsat market and contributing to the development of space infrastructure and sustainable use of space. Positioned as the most robust OTV platform on the market for performance, payload, capacity, and flexibility in executing orbital maneuvers, this new product became an integral component of Exolaunch's Environmental Stewardship and Sustainability impact initiative. The more advanced Reliant Pro version will also set the standard for environmentally conscious OTVs, featuring the ability to install modular payloads with the purpose of tackling the growing issue of space debris. After safely deploying satellites into their target orbits, an essential task of the Reliant Pro would be to collect authorized space debris prior to deorbiting.
In 2021 Exolaunch continued to serve a big number of projects for its numerous current customers but also announced the new launch services agreements with several new customers including the publicly announced Synspective, EnduroSat, and Lunasonde with their constellations.
As a highly important strategic decision and crucial business milestone was the expansion of Exolaunch's footprint to North America by opening an office in Denver, CO and establishing representation in Washington, DC in the second half of 2021. The incentive was two-fold, as it enables Exolaunch to better serve its US customers (comprising roughly 50% of Exolaunch's customer portfolio), and to maintain closer relationships with Exolaunch's launch vehicle providers in the US, namely SpaceX and its respective Falcon 9 launch sites.
To manage the fully manifested missions for years ahead while maintaining its manic focus on customer service and technical excellence, in 2021 Exolaunch doubled its launch mission management team at its headquarters in Germany. Additionally, Exolaunch headquarters started moving offices to a new stellar premises at the heart of business Berlin to welcome customers and partners in 2022 in a new setting.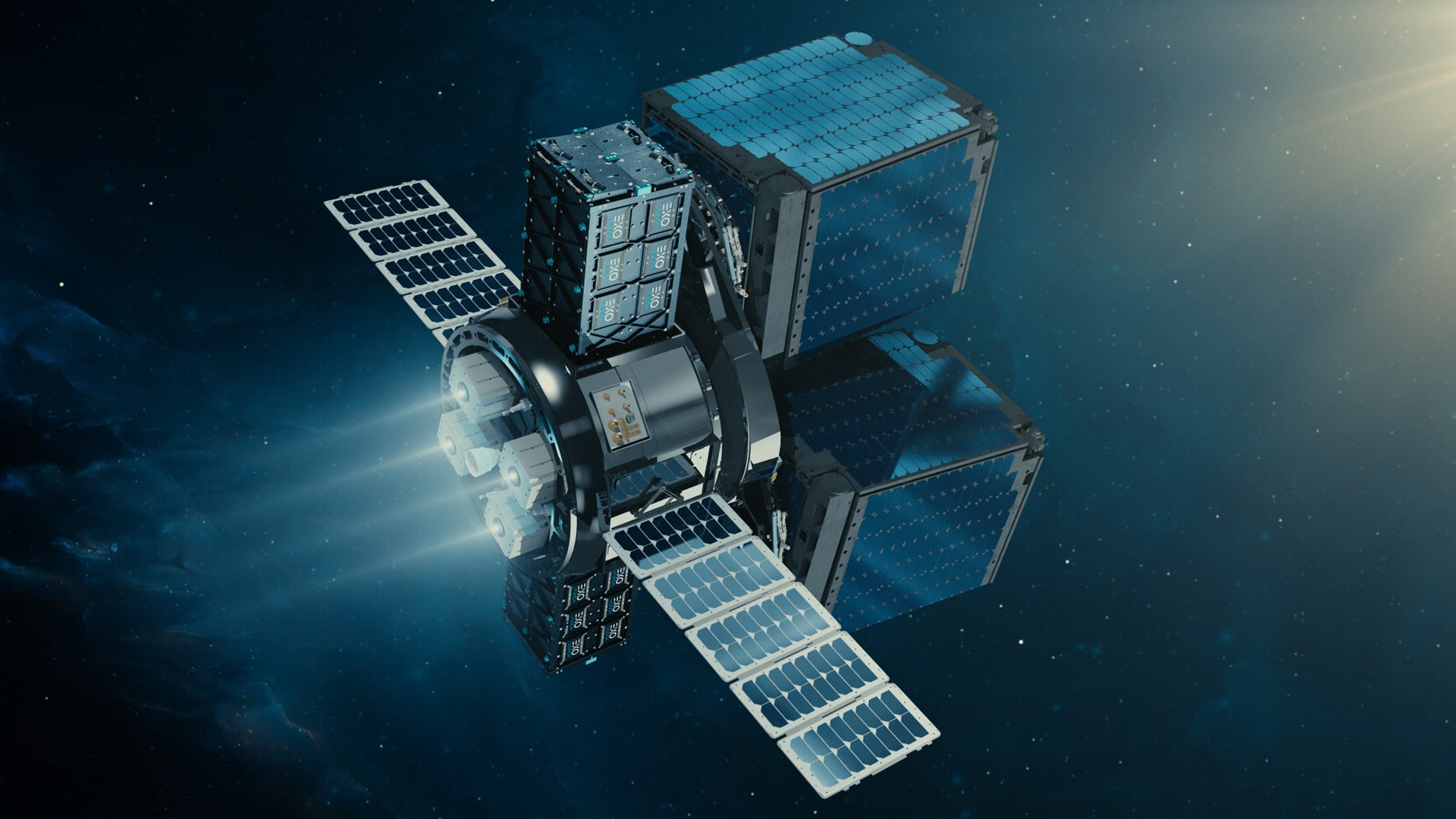 Despite the COVID-driven constraints, this year was also rich on in-person professional networking. Exolaunch's team attended numerous premier space events - Space Symposium, Satellite, International Astronautical Congress, exhibited and presented at the Space Tech Expo Europe, ESA Industry Space Days and looks forward to presenting at the upcoming Euroconsult's World Satellite Business Summit already next week.
Exolaunch remains the primary contact for the smallsat industry leaders with its one-stop-shop launch offerings for bringing payloads into the destined orbits reliably and responsibly. This along with unprecedented level of flexibility was enabled through availability in Exolaunch's launch portfolio of multiple flight-proven vehicles, which Exolaunch's systems are fully qualified for.
Reliance exclusively on in-house innovation and capabilities, including the developed proprietary top-notch deployment systems laid at the core of company's business architecture, and capacity to independently perform a full cycle of services, have distinguished the company among the others.
Overall, 2021 for Exolaunch team has been a notable year with numerous business successes and continuous growth, having confirmed once more the company's leading position on the smallsat launch market. Committed to delivering a trusted access to space, Exolaunch further played a game changing role and shifted the smallsat space transportation paradigm by shaping new innovative launch services architectures and tailored offerings.
The year was bright, successful and memorable. Thank you to all our customers and partners for placing the trust in us and being part of our story. In 2022 we'll light it up even brighter, promised!
Subscribe to follow our latest news, updates and innovations as they happen
Ready to go
to space?
Let's chat. Get in touch and we'll be with you shortly.