June, 2021
Exolaunch to Send its Largest Mission of One Ton of Smallsats into Orbit via SpaceX's Transporter-2 Rideshare Mission
Company Finishes "Fingerspitzengefühl" Launch Campaign at Cape Canaveral for its International Customers Flying Aboard Falcon 9
Cape Canaveral, Florida, USA, June 14, 2021 – Exolaunch, the leading launch, deployment and in-space transportation services provider in the NewSpace sector, has just completed its launch campaign named 'Fingerspitzengefühl'* by integrating 29 small satellites from the USA, Europe and South America aboard SpaceX's Falcon 9 rideshare mission scheduled for June 2021. With a combined mass of close to one ton, Exolaunch doubles its mass capacity from SpaceX's previous rideshare for small satellites, making 'Fingerspitzengefühl' its largest mission in terms of payload mass to date. This will also be one of the most diverse rideshare missions for the company bringing the total number of satellites launched by Exolaunch to 170.
An artist's impression of the Exolaunch's Fingerspitzengefühl satellites deployment into orbit
IMAGE CREDIT © 2021 EXOLAUNCH
Exolaunch's rideshare cluster includes payloads with cutting-edge technologies for IoT, Earth Observation and scientific applications, and satellites from its international customers such as Loft Orbital, NanoAvionics, ICEYE, and the TU Berlin. Exolaunch is also providing flight hardware, separation systems and integration services to support Satellogic's four microsatellites on this mission.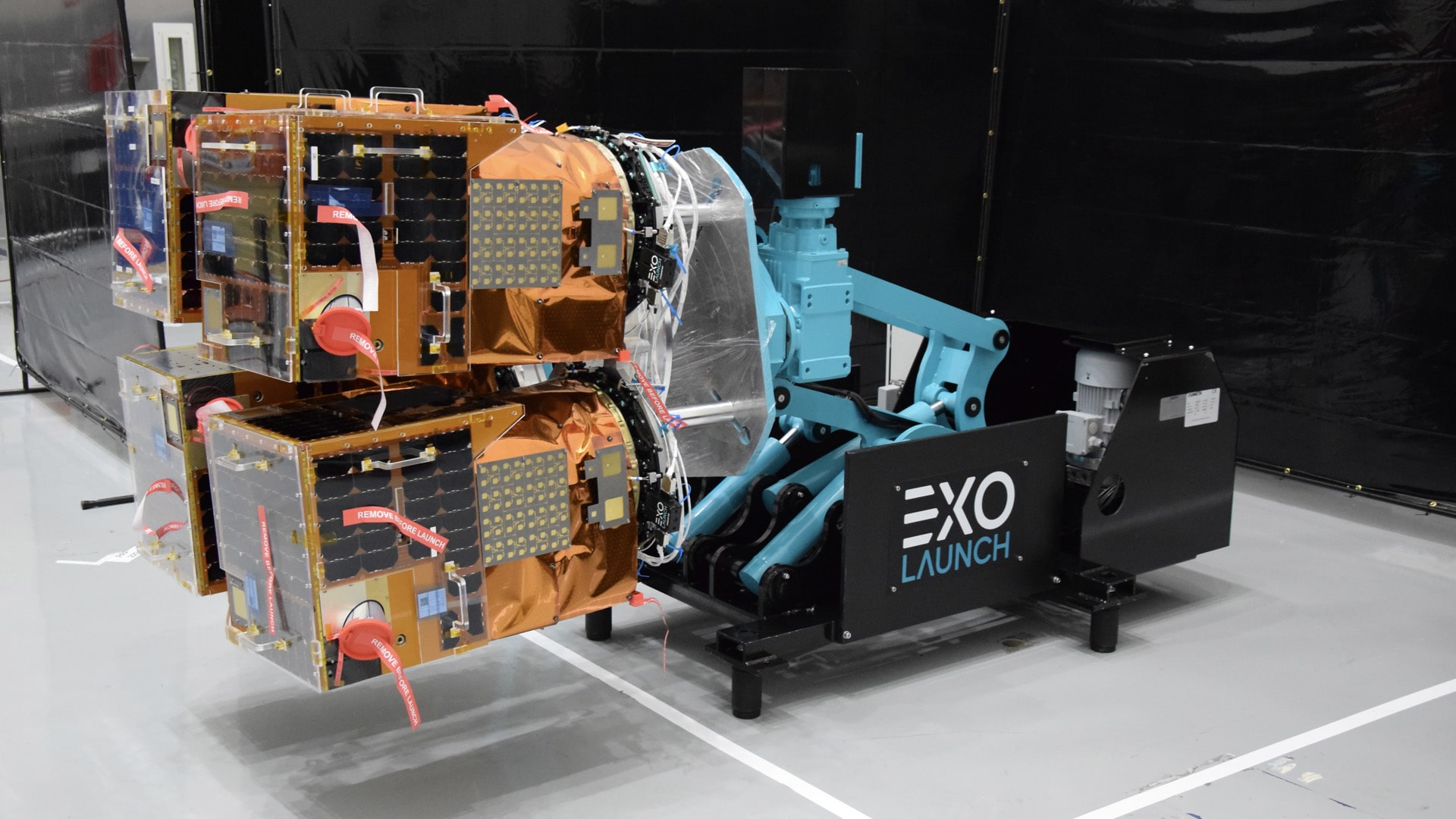 Satellogic's satellites integration with EXOport
IMAGE CREDIT © 2021 EXOLAUNCH
This is the second dedicated rideshare mission of SpaceX's SmallSat Rideshare Program and also the second of a series of rideshares Exolaunch is manifesting on Falcon 9 as part of a Multi-Launch Agreement the company signed with SpaceX in 2020. On SpaceX's first record-breaking dedicated rideshare mission Transporter-1 earlier this year Exolaunch launched 30 contracted satellites. For every Falcon 9 launch procured through the Multi-Launch Agreement with SpaceX, Exolaunch ensures comprehensive rideshare mission management, satellite integration and deployment services for its customers.
TUBIN satellite integration with EXOport
IMAGE CREDIT © 2021 EXOLAUNCH
"This is a powerful NewSpace transatlantic partnership between SpaceX and Exolaunch," said Jeanne Medvedeva, Vice President of Launch Services at Exolaunch. "Being an integrator for Falcon 9 launches, with the advanced flight hardware and deployment technologies in our product portfolio, allows us to serve even the most demanding NewSpace customers who prioritize performance, reliability and innovation to procured launch services. This latest mission shows the trust our customers have in our vast experience in rideshare launches and ability to perform skillfully and professionally."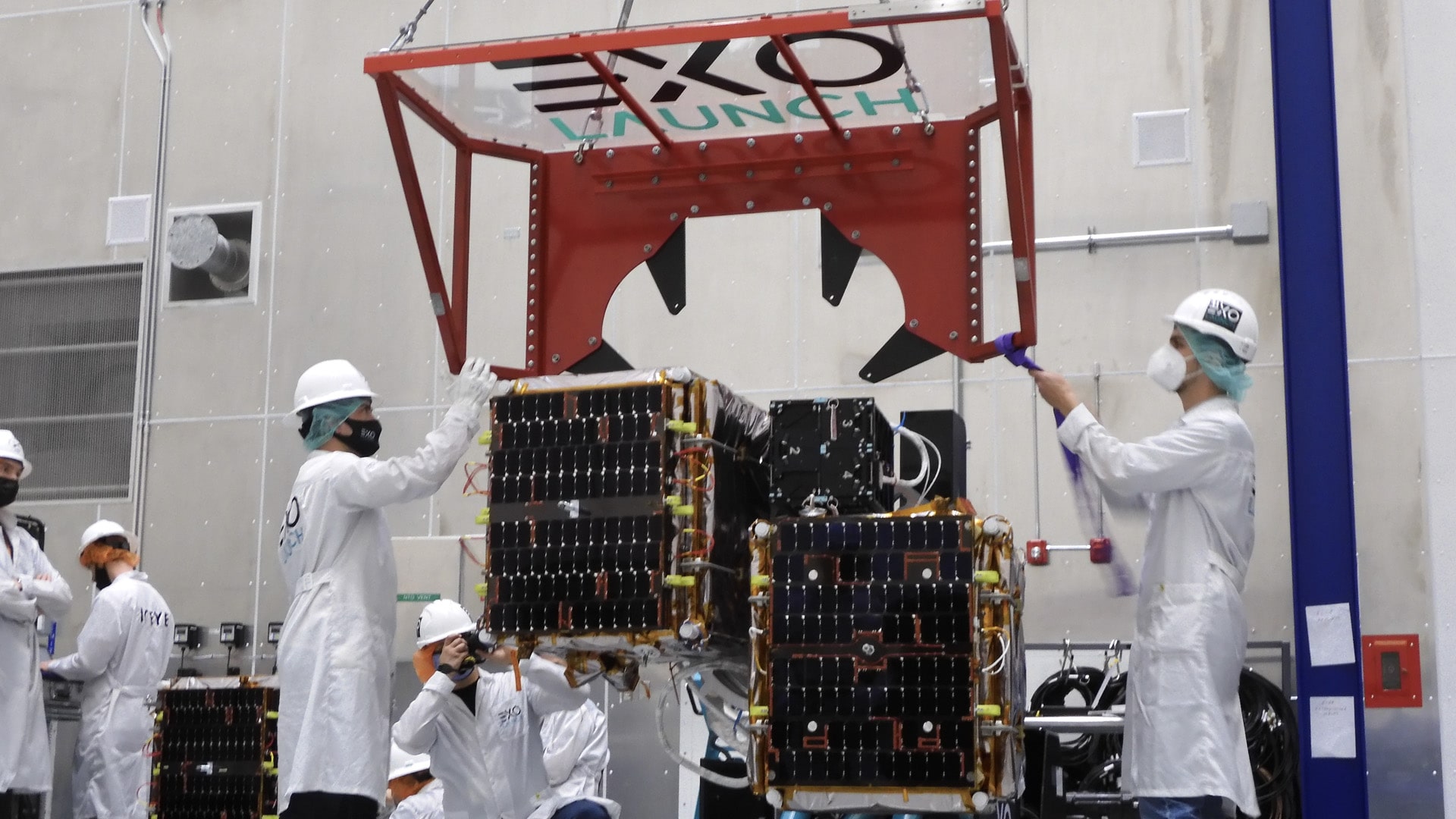 ICEYE's satellites integration with EXOport
IMAGE CREDIT © 2021 EXOLAUNCH
Connor Jonas, Exolaunch's Program Manager said: "This has been Exolaunch's most demanding and technically sophisticated mission. For this mission we are using the full range of our product line: four EXOport adapters, ten CarboNIX, separation systems and two EXOpod cubesat deployers. We have worked with the entire capacity of a SpaceX ESPA Ring to deploy one ton of customers' payloads using only Exolaunch technology. This mission was challenging as we had to develop new technical solutions for such a large and diverse cluster, and find a way to deliver twice the hardware in half the time. Despite these challenges, our expert team delivered on time and pulled off an exceptionally smooth integration campaign at Cape Canaveral."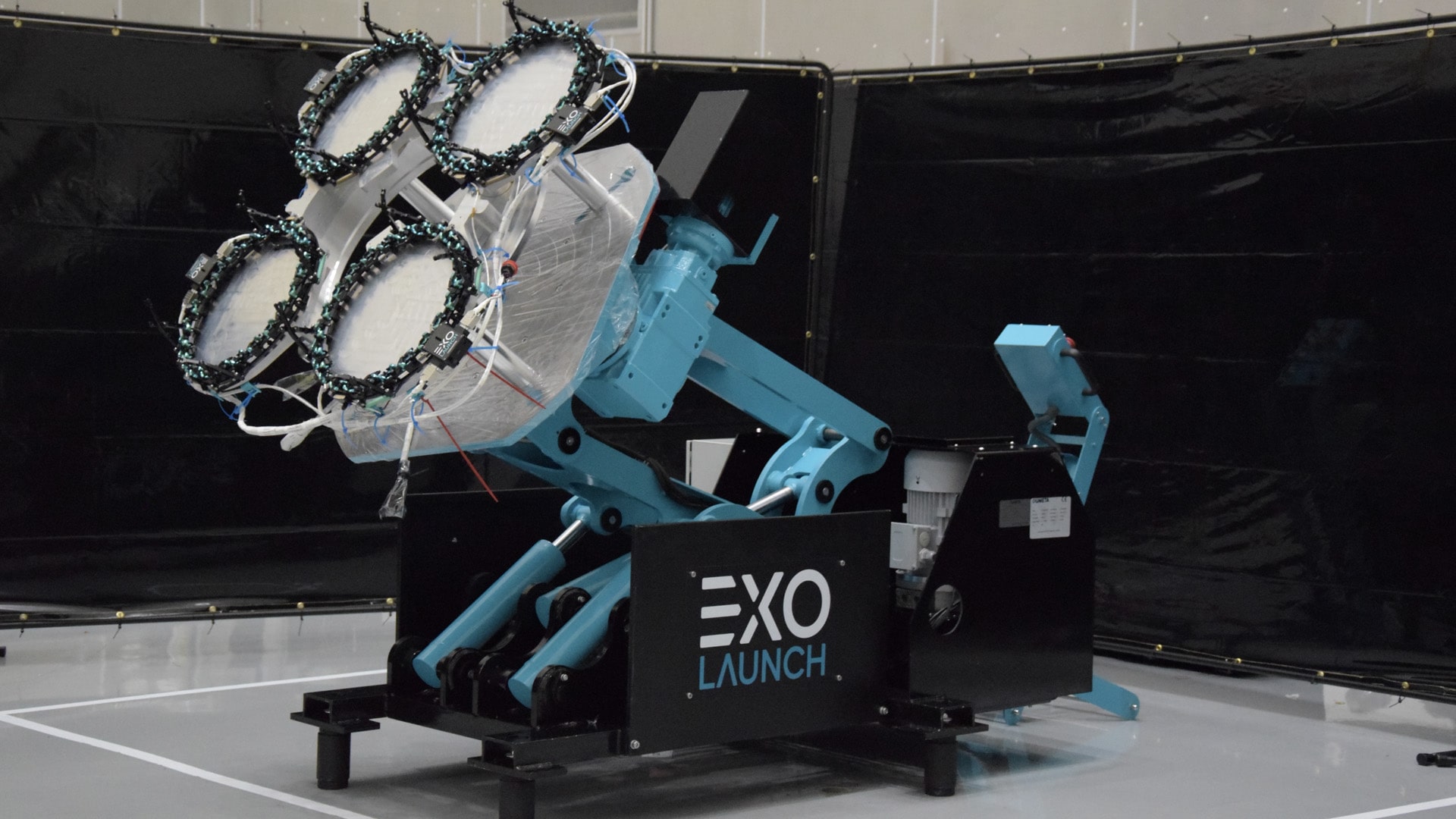 Exolaunch integration - Die Maschine
IMAGE CREDIT © 2021 EXOLAUNCH
To maximize payload capacity and cost-effectiveness for its customers of this mission, Exolaunch will use its recent product addition, EXOport, a flexible multi-satellite adapter designed to optimally accommodate microsatellites and cubesats on a single Falcon 9 ESPA port. The company will also utilize its proprietary flight-proven separation systems – CarboNIX, the next generation shock-free separation system for microsatellites, and the EXOpod, Exolaunch's upgraded cubesat deployer with half a decade of flight heritage, to flawlessly deploy its customers satellites into the target orbit.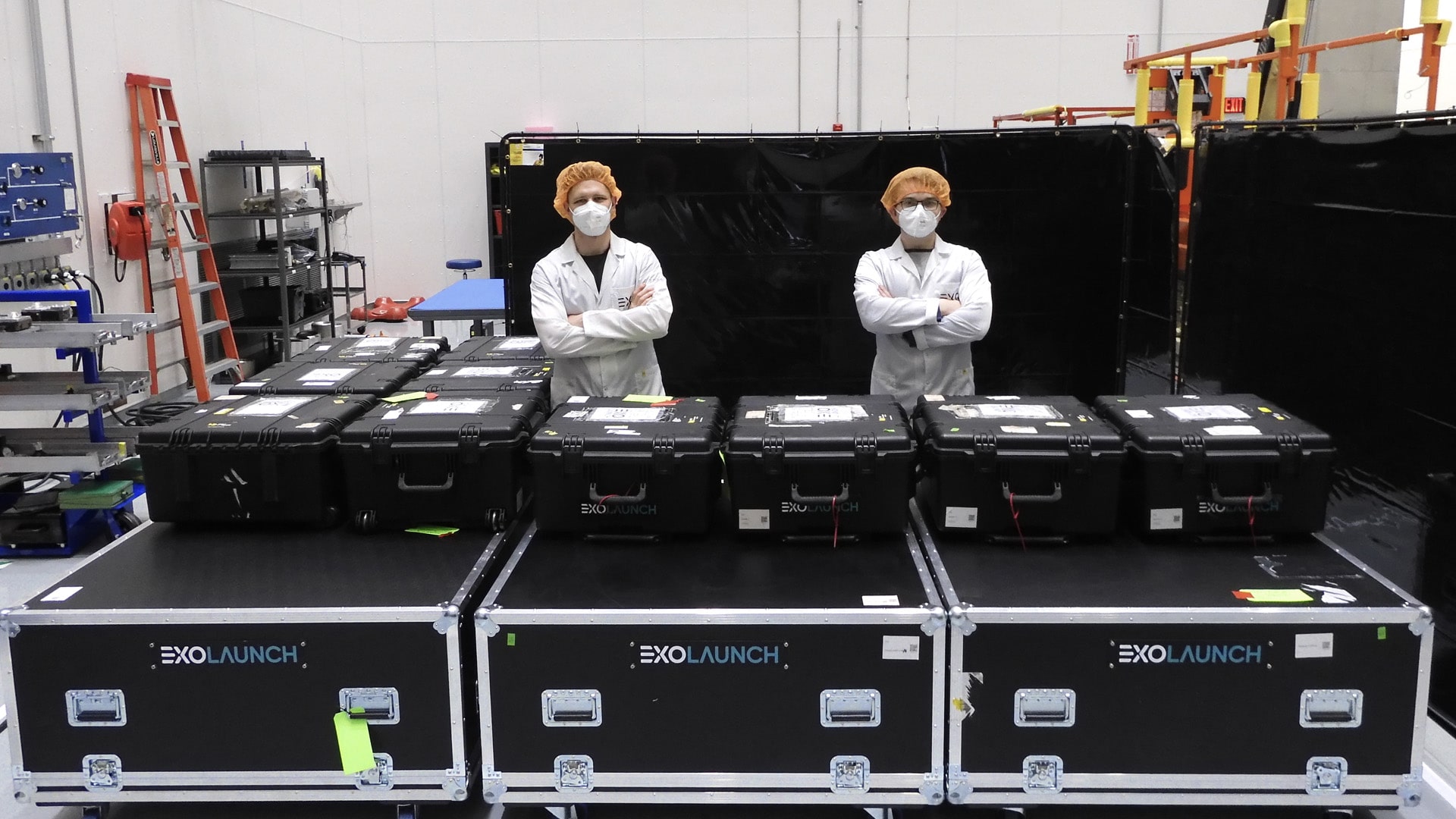 Exolaunch ground support equipment set-up at SpaceX facilities
IMAGE CREDIT © 2021 EXOLAUNCH
"'Fingerspitzengefühl' on Transporter-2 symbolizes Exolaunch's vast experience in successfully deploying our customers' satellites into orbit," said Medvedeva. "It's also a continuation of the individual mission names that started with 'Zeitgeist', literally 'Spirit of the Time', Exolaunch's previous rideshare launch aboard SpaceX's Falcon 9 in January 2021."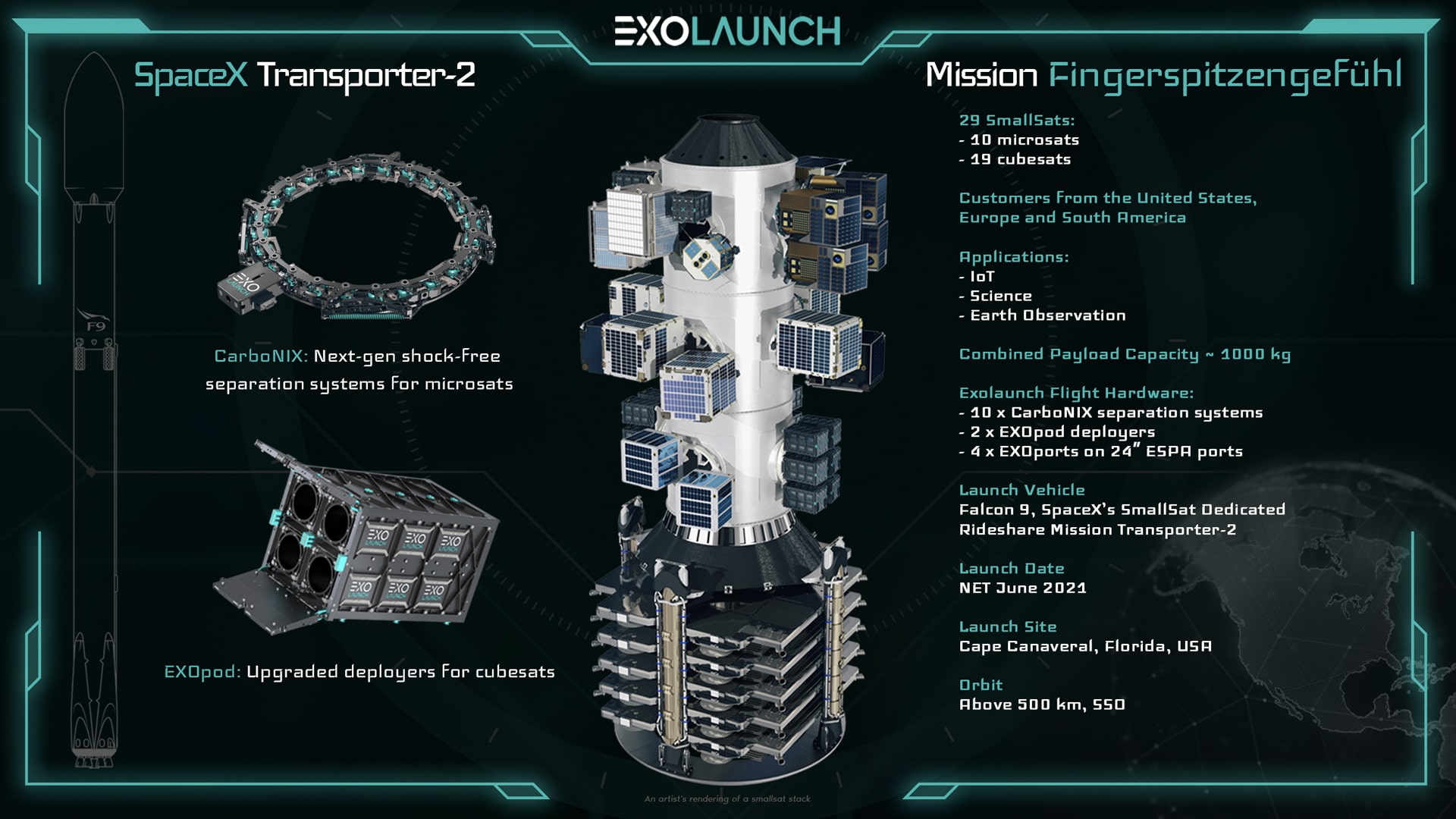 Exolaunch's Fingerspitzengefühl Transporter-2 infographic
IMAGE CREDIT © 2021 EXOLAUNCH
Starting next year, due to entry of the Reliant orbital transfer vehicle into the space tug market, Exolaunch will be able to meet the most ambitious requirements of its customers wishing to deploy satellite constellations to custom orbits by adjusting altitude, inclination, LTAN/LTDN, and performing orbital phasing. It is designed to deorbit shortly after deployment completion, minimizing the risks of space collisions and reducing orbital debris. Future generations of Reliant will also be able to perform on-demand active debris removal.
* 'Fingerspitzengefühl' – a German term, literally "finger tips feeling"; meaning intuitive flair/instinct.
Press Contact
For interviews or further information, please contact Harry Pirrwitz via email at harry@ciceroandfriends.com or call +44 (0)73 9252 5980.
About Exolaunch
Exolaunch (Germany, USA) provides launch, in-space logistics, deployment and mission management services for NewSpace actors. With over 140 satellites deployed to date across different launch vehicles, Exolaunch has an industry insight it can leverage to develop solutions tailored towards meeting customer needs and addressing market trends. Exolaunch executes launch contracts for NewSpace leaders, the world's most innovative startups, research institutions, government organizations, and space agencies. The company manufactures flight-proven separation systems to deliver the best-in-class integration and deployment services for small satellites, and is developing a line of space tugs to provide last-mile delivery services and combat space debris.
For more information, visit: www.exolaunch.com
Subscribe to follow our latest news, updates and innovations as they happen
Ready to go
to space?
Let's chat. Get in touch and we'll be with you shortly.