March, 2021
Japanese Satellite Company Synspective Signs Launch Agreement with Germany's Exolaunch to Launch the Second SAR Satellite "StriX-β" on Soyuz-2
Following the successful image acquisition of the first satellite "StriX-α", the second satellite is scheduled to be launched in late 2021.
Tokyo, Japan and Berlin, Germany – March 23, 2021 - Synspective Inc., a SAR satellite data and analytic solution provider, announced a Launch Agreement with the German launch services provider, Exolaunch, to launch the second demonstration satellite "StriX-β" on a Soyuz-2 launch vehicle from Vostochny Cosmodrome in Russia in late 2021.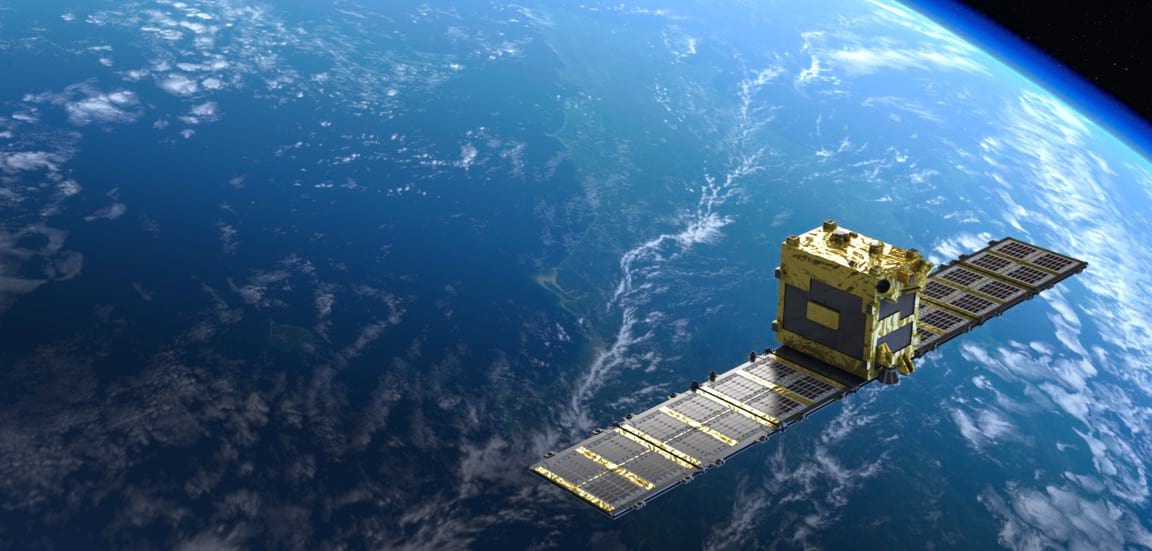 IMAGE CREDIT © 2021 SYNSPECTIVE
StriX-β is the second demonstration satellite following Strix-α. It is aimed to demonstrate "InSAR (Interferometric SAR)" technology in orbit, a special SAR analytics technique to detect millimeter-level displacements on the ground surface.
Under the agreement, Exolaunch will provide launch, mission management and integration services for the Strix-β satellite that will be delivered to a Synspective's custom orbit. The Strix-β is the second satellite of a 30 SAR satellite constellation that Synspective plans to build by the late 2020s.
Dr. Motoyuki Arai, founder and CEO of Synspective, said, "We are very pleased to entrust the launch of StriX-β, our second small SAR satellite, to Exolaunch, which has an extensive track record. Synspective has already begun operating its first satellite, as well as providing solution services. We are now entering a phase of business expansion. StriX-β is a crucial satellite to demonstrate InSAR technology and to deepen satellite-operation know-how, which are strengths in our business expansion. We will accomplish this mission and steadily achieve results to enhance global efficiency and resilience."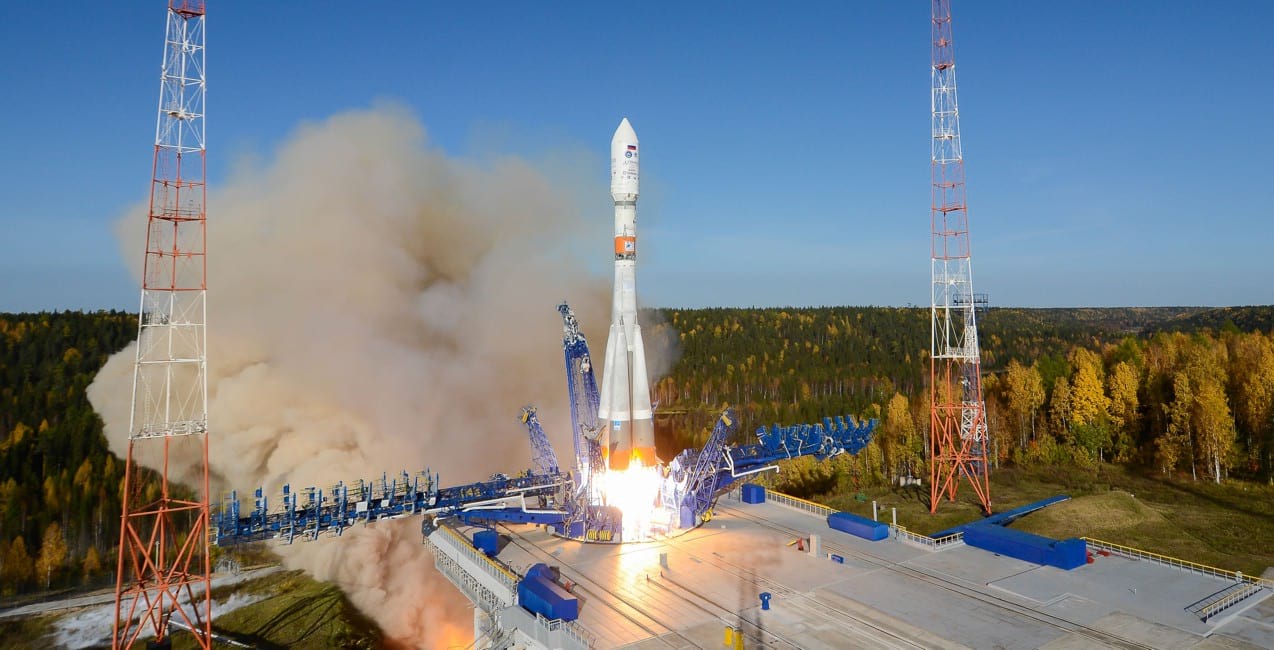 IMAGE CREDIT © 2021 ROSCOSMOS
Jeanne Medvedeva, VP of Launch Services at Exolaunch, said, "We are delighted to welcome Synspective as our customer and to launch StriX-β with Soyuz-2, which is known for its outstanding reliability. Synspective is a company with an ambitious mission to revolutionize an Earth Observation market by introducing new SAR technologies and solutions. Exolaunch's commitment to working with global conscientious companies is the perfect complement to Synspective's mission of advancing the world through data-driven decisions that have a lasting positive impact. We are proud of being both flexible and authentic, capable of providing on demand launches to requested custom orbits tailored to Synspective's constellation needs."
About Synspective
Synspective provides one-stop-solutions using geospatial data from its own SAR satellites, upon its mission to create a progressive world based on real data. The core technology was developed by the ImPACT program led by The Cabinet Office, Government of Japan. Synspective is building a constellation of its own small SAR satellites and to provide its data and analytic information to governments and commercial outfits.
Media Contact:
Synspective PR
press@synspective.com
For more information, visit: www.synspective.com
About Exolaunch
Exolaunch provides launch, in-space logistics and deployment services for the NewSpace. Its flight heritage includes the successful deployment of 140 small satellites into orbit (with 60+ satellites scheduled for flight in 2021) through its global network of launch vehicle providers. Exolaunch executes launch contracts for NewSpace leaders, the world's most innovative startups, research institutions, government organizations, and space agencies. The company manufactures flight-proven separation systems to deliver the best-in-class integration and deployment services for small satellites.
Media Contact:
Matthew Pugh, Pugh & Tiller PR
mpugh@pughandtillerpr.com
+1 (443) 527-1552
For more information, visit: www.exolaunch.com
Synspective's Satellite Development
"StriX-α" was launched by Rocket Lab's Electron, from New Zealand's Mahia Peninsula launch site, on December 15 (JST) and put into the target orbit: at an altitude of 500 km in a Sun Synchronous Orbit (SSO). It has been successfully operated since and the very first imagery was successfully acquired on February 8.
Synspective aims to build a constellation of 6 satellites by 2023 and 30 satellites by the late 2020s. With the constellation of 30 satellites in low Earth orbit, it makes it possible to observe the location of disaster occurring anywhere in the world within the time of two hours (with 6 satellites, it is within 24 hours). Synspective is currently developing an automated process that analyzes the observed data, assesses (understand) the situation of the disaster at the early stage, and provides a solution. By establishing its constellation, Synspective aims to contribute dramatical improvements in the world's disaster response efforts.
About Synthetic Aperture Radar (SAR)
The SAR (Synthetic Aperture Radar) satellite sends microwaves to Earth to capture the shape of ground surface and buildings. In most regions in Asia, observation during long and frequent rainy seasons has been a challenge with optical satellites. SAR can achieve stable observations independent of time of day/night or weather conditions.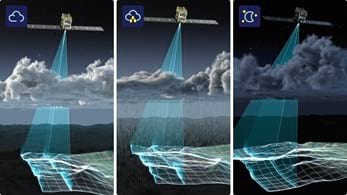 IMAGE CREDIT © 2021 SYNSPECTIVE
Synspective's satellite data solution development
We provide various solution services as SaaS that solve customers' problems by utilizing satellite data. In addition, the combination of various data (IoT data, PoS data, GPS, thermal sensors, etc.) with analytic information from SAR images can support important decision- making.
【Service Lineup】
1.「Land Displacement Monitoring」

The "Synspective Land Displacement Monitoring" service originates from InSAR*2 analysis that is capable of detecting timely vertical land displacement, in millimeters, over a wide area. This Service enables periodical observation and understanding of land subsidence and deformation. It takes a lot of time and labor to understand the risk of land subsidence and landslides over a wide area. By leveraging Synspective's new service, cost and time is reduced, when compared to the traditional observation and control techniques associated with these ground change risks. This new service's expected use is multifaceted and can be applied in many land risk management projects such as construction projects, airport maintenance projects, and subway development projects, among others.

2.「Flood Damage Assessment」

The "Flood Damage Assessment Solution" is a service that evaluates inundation damage (inundation area, inundation depth, damaged roads, damaged buildings) as a measure during a disaster response. In the event of a disaster, especially when affecting large areas, early information and fast action are critical. SAR satellites are capable of all-weather, anytime, ground observation, as such, when a flood occurs it is possible to quickly grasp the gravity of the situation and evaluate the damage without delays. Furthermore, by utilizing cutting-edge AI methods, the tool can also identify the level of impact on facilities, such as roads and buildings, in a speedy manner.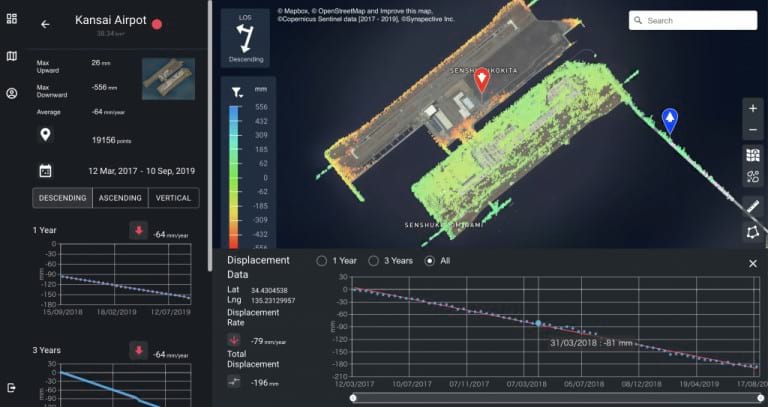 IMAGE CREDIT © 2021 SYNSPECTIVE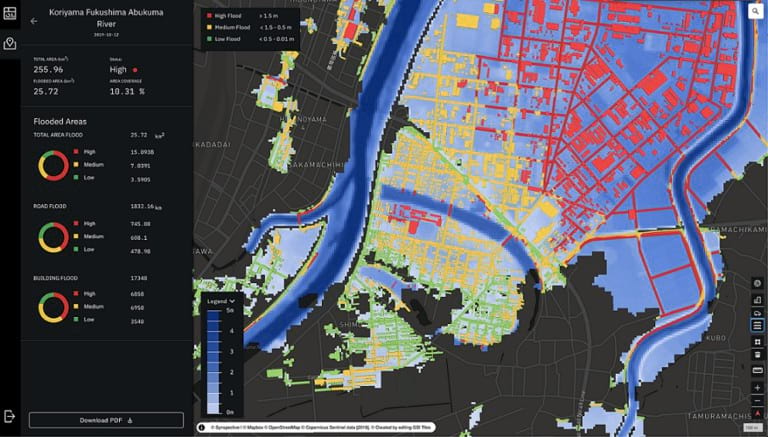 IMAGE CREDIT © 2021 SYNSPECTIVE
For inquiries regarding Synspective solution services, please email at: hello-sol@synspective.com
Subscribe to follow our latest news, updates and innovations as they happen
Ready to go
to space?
Let's chat. Get in touch and we'll be with you shortly.