January, 2021
DLR mission PIXL-1 is integrated by Exolaunch for SpaceX's Falcon 9 upcoming launch from Cape Canaveral
Oberpfaffenhofen/Backnang/Berlin, Germany, January 21, 2021 – The German Aerospace Center (DLR) has announced that its PIXL-1 mission – core of the technology demonstrator mission tasked to test highly compact laser communications for cubesats – , will be launched under Launch Services Agreement with Exolaunch, as part of SpaceX's first dedicated smallsat rideshare mission 'Transporter 1' aboard a Falcon 9. The CubeLCT is developed by DLR Institute of Communications and Navigation in close cooperation with its commercialization partner Tesat-Spacecom (TESAT) in Backnang. The satellite has been developed and integrated by the Danish company GomSpace.
The development of the CubeLCT, which weighs just below 400 grams, serves the demand for increasing bandwidth resulting of new sensor capabilities on small satellites. In the future, small satellites will benefit of the ultra-lightweight and compact laser terminal with a volume of only about one third U (9,5 x 9,5 x 3,25 cm³), which is capable of data rates of up to 100 Megabit per second with low power consumption. The physical properties of the laser beam allow the technology to be independent of radio frequency allocations (and unaffected by ITU regulations), while enabling enhanced security aspects through interference-free optical links resilient to eavesdropping by technology as the medium for quantum key distribution (QKD) technology in future missions.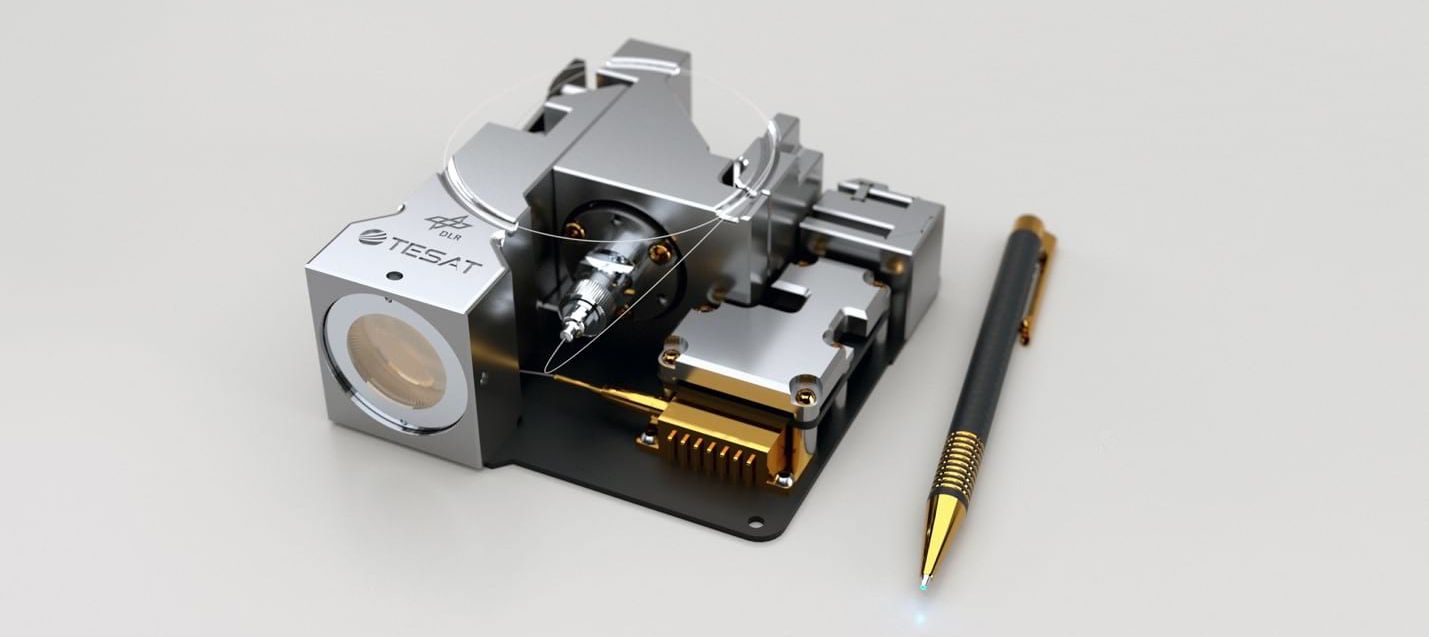 IMAGE CREDIT © 2021 TESAT
PIXL-1 has been designed as a 3U modular demonstrator cubesat with a highly precise pointing mechanism to support the operation of the CubeLCT to transfer data from the satellite directly to ground. The CubeLCT has been developed together with TESAT, based on a NewSpace approach ready for mass manufacturing.
"CubeLCT is a creative architecture, which combines optics and electronics in an ultra-compact terminal, which is furthermore designed for series production" said Prof. Christoph Günther, Institute's Director of the DLR Institute of Communications and Navigation. Christoph Günther further said: "Our aim is to push the boundaries of the feasible and to be the first ones in demonstrating game-changing technologies. We are happy to launch CubeLCT into orbit on SpaceX's Falcon 9 using cutting-edge deployment solutions provided by German company Exolaunch, a trusted partner with long flight heritage comprising to date the successfully arranged end-to-end launch campaigns for our satellite and many more smallsats".
PIXL-1 is part of the Exolaunch's 'Zeitgeist' mission, the first of several rideshares Exolaunch is manifesting on Falcon 9 enabled by a multi-launch agreement signed earlier this year with SpaceX that laid a robust transatlantic bridge for European smallsat developers interested in launching on Falcon 9. Named 'Zeitgeist', Spirit of Time, this rideshare symbolizes an Exolaunch's swift response to the smallsat market demands in disruptive, competitive and cost-efficient launch services, result of synergy between SpaceX and Exolaunch that revolutionized the entire architecture of launch offerings and solutions.

IMAGE CREDIT © 2021 TESAT
For integration of a cluster composed of 30 satellites, including PIXL-1, Exolaunch used its flexible multi-port adapter EXOport and its market-leading advanced separation systems and sequencers to ensure precise deployment of small satellites into their target orbit. PIXL-1 will be deployed from Cape Canaveral on a Falcon 9 ESPA port using developed by Exolaunch EXOpod - the most advanced on the world market deployment system with substantial flight heritage.
"We are delighted to support DLR Institute of Communications and Navigation and its highly experienced team in this ambitious mission bringing their CubeLCT into orbit that combines state-of-the-art technology and German legacy in the area of laser communications" said Dr. Olga Stelmakh-Drescher, Chief Policy and Government Relations Officer at Exolaunch. "Even though we are working with customers from around the world, for us, as a German company, to have a German payload as part of our Zeitgeist mission, is particularly pleasant. Even more pleasant to see DLR – a research center of excellence for aeronautics and space of the Federal Republic of Germany - as our customer. We are looking forward to many more opportunities where we can contribute to DLR missions' success by offering innovative and reliable launch and deployment solutions jointly shaping the future of Germany's posture on the international space arena".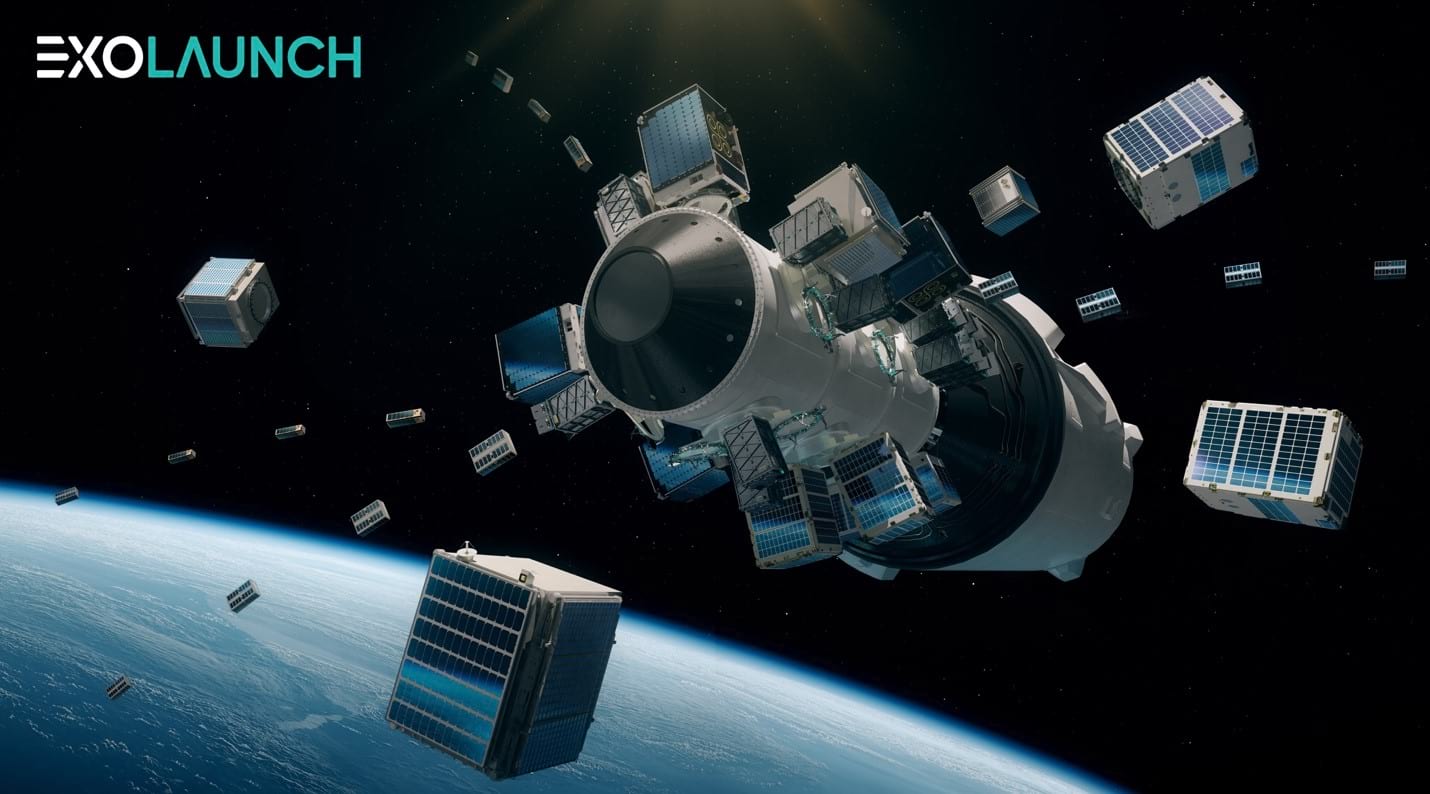 IMAGE CREDIT © 2021 EXOLAUNCH
About DLR
DLR is the Federal Republic of Germany's research centre for aeronautics and space. DLR conducts research and development activities in the fields of aeronautics, space, energy, transport, security and digitalisation. The DLR Space Administration plans and implements the national space programme on behalf of the federal government. Two DLR project management agencies oversee funding programmes and support knowledge transfer. The DLR Institute of Communications and Navigation focuses on the conception and analysis of communication and navigation systems involving satellites or designed for applications in aeronautics, transport and security. The activities range from fundamental research to technology demonstrations. Institute's projects are centered around four missions - global connectivity, global positioning, autonomy and cooperation as well as cyber security. - that have direct impact on society and industry. The Institute pays special attention to the application and utilization of its research. For this the Institute cooperates closely with industry and supports its employees in founding start-ups.
For more information, visit: www.dlr.de/kn/PIXL
About TESAT
At TESAT in Backnang, around 1,000 employees develop, manufacture and distribute systems and equipment for telecommunications via satellite. The product range spans from smallest space-specific components to modules, entire assemblies or payloads. As world's only provider and technology leader of in-orbit-verified optical terminals for data transmission via laser (LCTs), TESAT has a focus on commercial and institutional space programs.
For more information, visit: www.tesat.de
About Exolaunch
Exolaunch provides rideshare launch and deployment services for New Space companies. Its flight heritage includes the successful deployment of 110 small satellites into orbit through its global network of launch vehicle providers. Exolaunch enables the visions of the New Space leaders, the world's innovative startups, research institutions, government organizations, and space agencies. The company also manufactures in-house flight-proven separation systems to deliver the best-in-class integration services and deployment for small satellites.
For more information, visit: www.exolaunch.com
Subscribe to follow our latest news, updates and innovations as they happen
Ready to go
to space?
Let's chat. Get in touch and we'll be with you shortly.