September, 2020
Exolaunch to Arrange the Ride for Spire Satellites on September Soyuz Mission
Long-Standing Collaboration Advances One of the World's Largest Satellite Constellations
Berlin, Germany – September 24th, 2020 - Exolaunch, a rideshare launch and deployment solutions provider, today announced that it will arrange the launch and provide technical mission management for four of Spire Global's Lemur-class 3U cubesats aboard a Soyuz rocket mission scheduled for September, 28th. Spire Global runs the world's largest commercial constellation of nanosatellites making radio occultation measurements, alongside other whole-earth observations that serve the maritime, weather and aviation industries.
To date, Spire has launched more than 100 satellites which operate across a broad range of orbits. Exolaunch has helped deploy approximately one-third of Spire's satellite constellation since 2016 when the launch service partnership between the companies began. The ongoing cooperation between Exolaunch and Spire has become a cornerstone for pioneering the latest advancements in small satellite launch systems and services.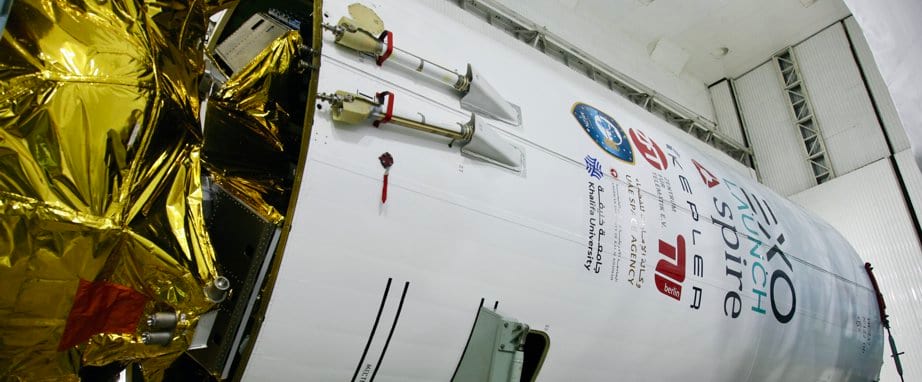 IMAGE CREDIT © 2020 EXOLAUNCH - SPIRE SATELLITES INTEGRATION ONTO THE FREGAT UPPER STAGE
"Our long-time partnership with Spire has been extraordinarily valuable not only in driving Exolaunch to continually refine its solutions, but also in helping to propel the smallsat and space industry to new heights," said Jeanne Medvedeva, Exolaunch VP of Launch Services. "We look forward to supporting Spire on this latest rideshare launch and stand ready to facilitate the ongoing expansion of their satellite constellation."
As it has done on previous rideshares, Exolaunch will arrange launch services and mission technical support for Spire using its advanced cubesat deployment system, the 12U EXOpod. It will also utilize the EXObox deployment sequencer to control the safe and precise separation of Spire's satellites.
"The experience and comfort we have working with the Exolaunch team has enabled Spire to continue with this launch campaign despite the challenges of a global pandemic. The combination of Exolaunch's trusted deployment hardware, launch expertise, and customer focus has made them one of our more trusted launch partners," said Robert Sproles, Senior Director, Constellation Planning and Operations at Spire. "Exolaunch has been instrumental in enabling Spire to set the industry-standard in the commercial aerospace sector as we work with our customers to tackle ever more frequent and extreme weather events in this era of Climate Change."
The Spire satellite launch is part of a September Soyuz rideshare mission that is manifested by Exolaunch to realize the launch plans of its international small satellite customers. The mission is named Wanderlust, Desire to Travel, which symbolizes both the ever-increasing importance of sustainable access to space for small satellites and longing for travelling which was recently restricted.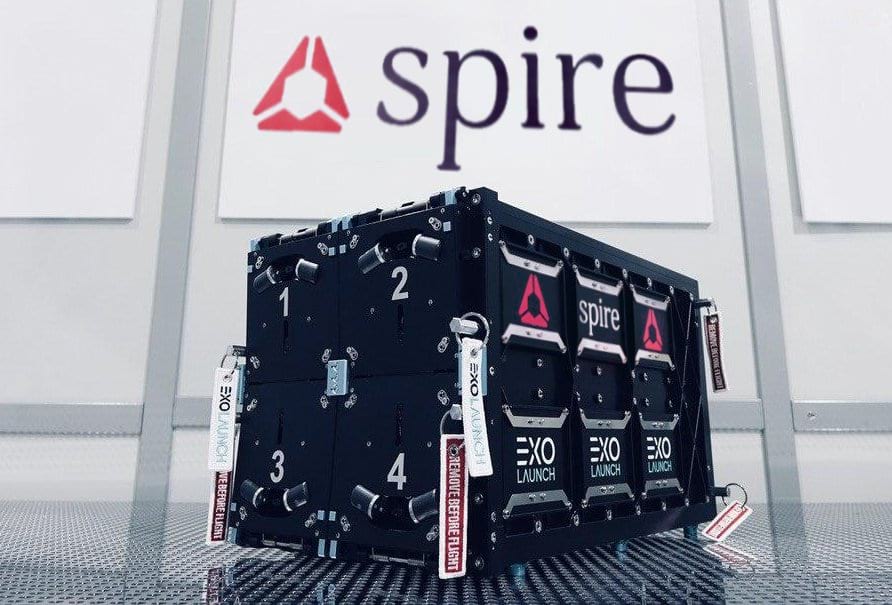 IMAGE CREDIT © 2020 EXOLAUNCH - 12U EXOPOD WITH FOUR SPIRE LEMUR-CUBESATS
Exolaunch has excellent heritage flying international customers on Soyuz, having launched more than 85 smallsats on Soyuz missions to date. This mission marks Exolaunch's 7th with Soyuz. On this mission, Exolaunch will deploy a cluster of 15 smallsats into a sun-synchronous orbit for its customers Kepler Communications, the UAE Space Agency, the Würzburg Center for Telematics, the Technische Universität Berlin and several European commercial companies. The company is set to provide its market-leading separation systems – EXOpod for cubesats and CarboNIX for microsats – as well as its EXObox sequencers, to ensure timely deployment of small satellites into their target orbit.
About Spire Global Inc.
Spire Global Inc. is a space to cloud analytics company that utilizes proprietary satellite data and algorithms to provide the most advanced maritime, aviation, and weather tracking in the world. Spire's data analytics is backed by a wholly owned and developed constellation of nanosatellites, global ground station network, and 24/7 operations that provide near real-time global coverage of every point on Earth.
About Exolaunch
Exolaunch is a rideshare launch and deployment solution provider for small satellites. Its flight heritage includes the successful deployment of nearly 100 small satellites into orbit, in cooperation with launch vehicle providers worldwide. Exolaunch enables the visions of the New Space leaders, the world's innovative startups, research institutions, government organizations, and space agencies. The company also designs and manufactures in-house flight-proven advanced separation systems to deliver the best-in-class integration services and deployment for small satellites.
Subscribe to follow our latest news, updates and innovations as they happen
Ready to go
to space?
Let's chat. Get in touch and we'll be with you shortly.