September, 2020
Exolaunch to Deliver the NetSat constellation into Orbit for Würzburg Center for Telematics
The Würzburg Center for Telematics announces a launch agreement with Exolaunch to deliver the NetSat satellite formation into orbit on Soyuz-2 scheduled for September 28th, 2020.
Berlin, September 15th, 2020 – The Würzburg Center for Telematics, an independent research center in Germany, and Exolaunch, a rideshare launch and deployment solutions provider, announce a launch agreement for a NetSat nanosatellite formation. Under the launch agreement, Exolaunch will coordinate all launcher related activities, including satellite shipment to launch site, integration, and deployment services to the Würzburg Center for Telematics' satellites on a Soyuz-2 rideshare mission scheduled for launch on September 28th, 2020.
NetSat is composed of four 3U cubesats that will pioneer research in formation control. It is set to demonstrate the self-organization of several satellites in three-dimensional space to jointly optimize the configuration for given tasks. This will then open up innovative perspectives for future sensor networks in space, including systems for three-dimensional imaging of the Earth's surface and computer tomography methods for looking inside clouds.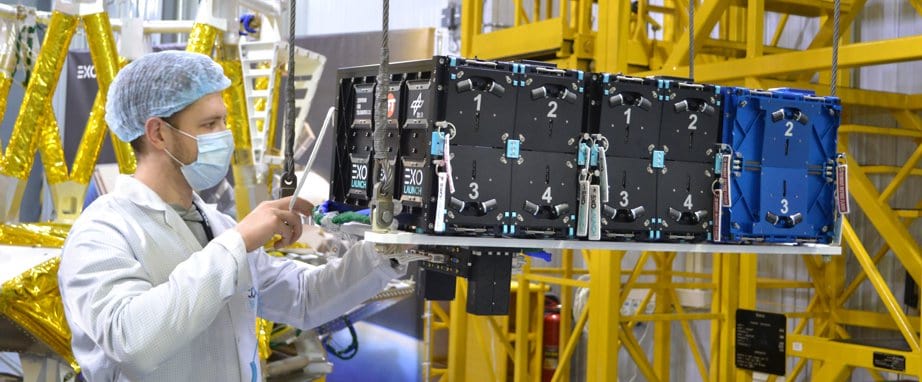 IMAGE CREDIT © 2020 EXOLAUNCH - NETSAT SATELLITES INTEGRATION ONTO THE FREGAT UPPER STAGE
All four satellites will be deployed into orbit with the 12U EXOpod, Exolaunch's cubesat deployer that has delivered 80 cubesats into orbit to date. The satellites have been successfully integrated into the EXOpod at Exolaunch facilities in Berlin, Germany, and made their way to the launch site for integration with the Fregat upper stage.
"In 2005, a team from Würzburg successfully launched and operated the first German pico-satellite in orbit. It continuously placed innovative technology demonstration and application missions. Based on that experience, we appreciated the smooth and good cooperation with Exolaunch, despite all complications of the exceptional COVID-19-period" said Klaus Schilling, President of the Center for Telematics.
Dmitriy Sternharz, CEO at Exolaunch, commented further on the upcoming launch plans: "It's great to see such innovations coming from the German aerospace industry. Given the clear trend within the smallsat industry of heading towards larger constellations, this is an important milestone for increasing the capabilities of satellite formations. Exolaunch is proud to work with the Würzburg Center for Telematics team and we look forward to assisting them in growing their satellite network in the future."
The NetSat constellation is a part of a September Soyuz rideshare mission – Exolaunch's seventh mission with Soyuz-2 that is fully manifested by the company. This mission is set to launch numerous commercial payloads carrying cutting edge technologies from Exolaunch's international small satellite customers. Named Wanderlust, Desire To Travel, this rideshare symbolizes both the ever-increasing importance of sustainable access to space for small satellites and the longing for travel that is currently restricted.
On the Wanderlust mission, Exolaunch is providing its market-leading separation systems – EXOpod for cubesats and CarboNIX for microsats – as well as its EXObox sequencers, to ensure timely deployment of small satellites into their target orbit. The company has excellent heritage flying international customers on Soyuz, having launched more than 85 smallsats on Soyuz missions to date. On this mission, Exolaunch will deploy a cluster of 15 smallsats into a sun-synchronous orbit for its customers from Europe, the UAE, Canada, and the USA.
About the Würzburg Center for Telematics
Since its foundation, the Center for Telematics has been one of the European pioneers in the field of microsatellite formations. Today, it is regarded as a nationally leading research institute in this field endorsed by many multi-satellite application mission contracts and international awards of highest reputation (like ERC). The advanced technologies developed for use in space are also transferred to terrestrial applications and include high reliability systems, extremely miniaturized electronics and safe tele-operations systems.
www.telematik-zentrum.de/netsat
About Exolaunch
Exolaunch is a rideshare launch and deployment solution provider for small satellites. Its flight heritage includes the successful deployment of nearly 100 small satellites into orbit, in cooperation with launch vehicle providers worldwide. Exolaunch enables the visions of the New Space leaders, the world's innovative startups, research institutions, government organizations, and space agencies. The company also designs and manufactures in-house flight-proven advanced separation systems to deliver the best-in-class integration services and deployment for small satellites.
Subscribe to follow our latest news, updates and innovations as they happen
Ready to go
to space?
Let's chat. Get in touch and we'll be with you shortly.