June, 2020
Exolaunch and NanoAvionics sign two launch agreements for SpaceX's rideshare missions
NanoAvionics awarded Exolaunch two contracts to launch the NanoAvionics-built nano-satellites on SpaceX's Falcon 9 rideshare missions.
Berlin, Germany, June 29th, 2020 – Exolaunch, a rideshare launch and deployment solutions provider, signed launch agreements with NanoAvionics, a nano-satellite bus manufacturer and mission integrator, to launch two 6U nano-satellites aboard SpaceX's Falcon 9 rideshare missions. Under the contract, Exolaunch will provide launch, integration and deployment services to the NanoAvionics-built satellites. The first contracted spacecraft will be launched to a sun-synchronous orbit on the Falcon 9 smallsat-dedicated rideshare mission targeted for launch in December 2020. Another spacecraft is planned for launch in 2021.
IMAGE CREDIT © 2020 NANOAVIONICS
To date, NanoAvionics has successfully completed over 75 satellite missions and commercial projects. Its flagship M6P preconfigured nano-satellite bus uses a modular software approach and flexible architecture, and is designed to serve commercial space markets. Its versatility allows NanoAvionics to provide a wide range of capabilities for its customers' payloads.
"We are glad to be collaborating with Exolaunch on these upcoming satellite launches," said Vytenis Buzas, CEO and co-founder of NanoAvionics. "The company is an experienced and trusted partner that responds well to our needs. Not only do they provide deployment systems with a solid flight heritage, but their flexibility towards offering the most suitable launch solutions is extremely valuable to our company and customers."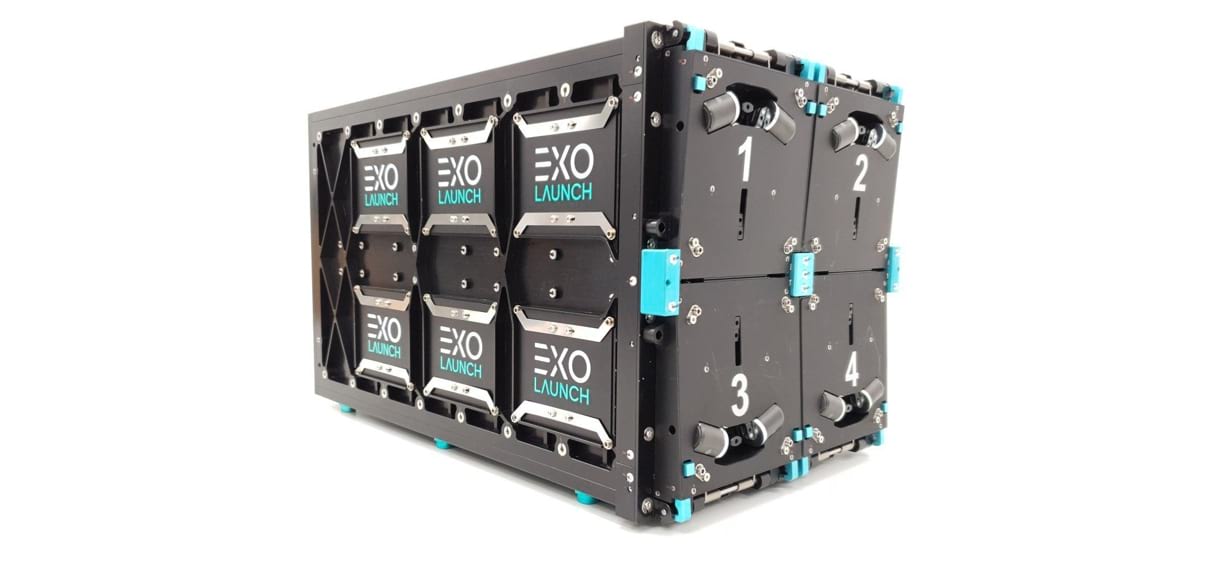 IMAGE CREDIT © 2020 NANOAVIONICS
The satellites will be integrated on a Falcon 9 ESPA port and deployed into orbit using the EXOpod, Exolaunch's advanced cubesat deployer. EXOpod has a substantial flight heritage, having deployed 80 cubesats of various sizes to date. EXOpod will be mounted on a Falcon 9 ESPA Grande port with EXOport, a flexible multi-port adapter designed to enable optimal accommodation of small satellites. The comprehensive mechanical testing campaign for the spacecraft will be performed in Berlin, Germany, where Exolaunch is based, followed by the satellite integration with the launch vehicle at SpaceX's facilities in Cape Canaveral, Florida.
"Exolaunch is proud to enter a collaboration with the highly experienced NanoAvionics team. Their flight-proven and reliable nano-satellite buses allow customers to exclusively focus on their applications and reduce costs and lead time," said Jeanne Medvedeva, Commercial Director at Exolaunch. "Adding to this approach, Exolaunch is ready to utilize its launch expertise and deployers to support the launch of NanoAvionics' satellites on Falcon 9. We look forward to working together further on upcoming projects."
In spring 2020, Exolaunch procured launch capacity from SpaceX to launch multiple small satellites aboard Falcon 9 as part of SpaceX's SmallSat Rideshare Program. Exolaunch has numerous international customers who already signed up for this mission, and recently the company extended its contract with SpaceX for an additional ESPA port. To date, the company has successfully arranged launch campaigns for nearly one hundred small satellites.
Subscribe to follow our latest news, updates and innovations as they happen
Ready to go
to space?
Let's chat. Get in touch and we'll be with you shortly.