June, 2020
Exolaunch and Space Structures signed an agreement to deliver EXOport multi-satellite adapters for Falcon 9 rideshare missions
Exolaunch and Space Structures signed an agreement to develop EXOports, multi-satellite adapters for Falcon 9 rideshare missions.
Berlin, Germany, June 29th, 2020 – Exolaunch, a rideshare launch and deployment solutions provider, signed an exclusive agreement with Space Structures, a provider of structures for space applications, to develop and produce multi-port adapters for small satellites named EXOports. EXOports will be utilized on the first Falcon 9 smallsat-dedicated rideshare mission targeted for launch in December 2020. On this mission to sun-synchronous orbit Exolaunch will accommodate multiple microsatellites and cubesats for its international customers under launch agreements with SpaceX.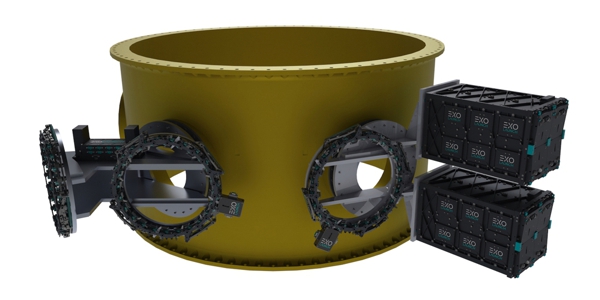 EXOport is a flexible multi-port adapter designed to significantly optimize Falcon 9 ESPA slots capacity. The adapters produced by Space Structures will mount Exolaunch's proprietary separation systems CarboNIX for microsatellites, EXOpod for cubesats and EXObox deployment sequencers to accommodate multiple payloads on a single Falcon 9 ESPA slot. EXOports will be produced in Germany in various configurations to enable optimal performance for microsats and cubesats. Space Structures specializes in high performance space applications and has developed and built custom composite metal and hybrid structures since 2011.
"We are excited to team up with such a competent partner as Space Structures to offer our customers advanced space engineering solutions," said Dmitriy Sternharz, CEO at Exolaunch. "SpaceX's SmallSat Rideshare Program opens unique opportunities for small satellites, and Exolaunch is proactively working on solutions to optimize them further."
"We are proud and honored to have been selected by one of the leading rideshare launch service providers for design and supply of such a crucial mission element as the EXOport launch vehicle adapters." said Florian Ruess, managing director at Space Structures GmbH, "This is a perfect showcase of our capabilities and we will do our utmost to ensure 100% mission success".
The companies plan to deliver numerous EXOport adapters for the upcoming Falcon 9 rideshare launches in standard and custom configurations to ensure cost-efficient slot sharing and safe deployment for small satellite customers.
Subscribe to follow our latest news, updates and innovations as they happen
Ready to go
to space?
Let's chat. Get in touch and we'll be with you shortly.