October, 2019
Exolaunch Successfully Delivered a Deployment Solution for Astro Digital 16U Satellite on October 16 Electron
Oct 16th, 2019 — Exolaunch, a leading launch services and deployment system provider for small satellites, and Astro Digital, a provider of complete space-based systems and mission support services for Earth observation, communications, science, and technology demonstrations, today confirmed a successful deployment of the 16U Palisade spacecraft riding a Rocket Lab Electron into orbit.
The launch, which took place on the Mahia Peninsula, New Zealand, marks the first time a 16U cubesat has flown on an Electron. The 16U EXOpod deployer was manufactured and delivered by Germany-based Exolaunch.
"Exolaunch delivered the 16U EXOpod in a very short time window, and we were very happy to receive it since it's the only flight proven 16U cubesat deployer on the market," said Chris Biddy, Co-founder and CEO of Astro Digital. "The unique, yet reliable piece of hardware performed flawlessly and Exolaunch provided technical support for the adaptation and during the spacecraft integration."
With the success of this campaign, Exolaunch has now sent 85 multinational small satellites to space, enabling the visions of some of the world's most ambitious and innovative companies, including Momentus, Spire Global, ICEYE, German Orbital Systems, NSLComm...and now Astro Digital.
IMAGE CREDIT © ROCKET LAB
This milestone marks a second success in Exolaunch and Astro Digital's working relationship. This July Exolaunch arranged launch services and delivered its 16U EXOpod for the first ever 16U cubesat developed by Astro Digital for Santa-Clara based Momentus.
"We value our long-term cooperation with Astro Digital, and we were very happy to be able to support this mission on short notice," said Connor Jonas, Exolaunch Mission Manager. "Astro Digital is one of the world's top small satellite manufacturers, and they're pushing the limits of what's possible with every mission. It's always a pleasure to work with them."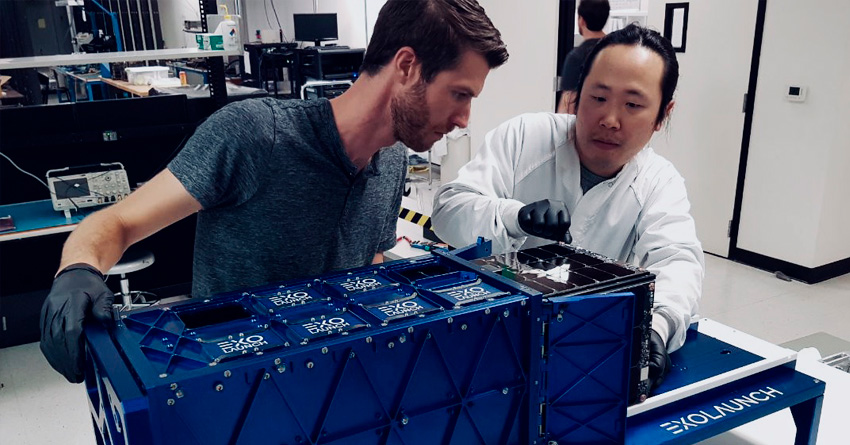 About Exolaunch GmbH
Exolaunch is a leading European launch services and separation systems provider offering regular access to space for small satellites. In cooperation with global launch vehicle providers, the proven flight heritage of Exolaunch includes the successful organization and launch execution of 85 multinational small satellites. In addition to launch services, Exolaunch designs and manufactures in-house 12U/16U EXOpod cubesat deployers and CarboNIX shock-free separation systems for microsatellites.
About Astro Digital
As a holistic offering, Astro Digital designs, builds, and operates micro-satellite systems supporting space-based turn-key missions for business applications, including earth observation, communications, In-orbit demonstrations, in addition to various science and exploration applications. Astro Digital is headquartered in Santa Clara, California. To learn more, visit www.astrodigital.com
Subscribe to follow our latest news, updates and innovations as they happen
Ready to go
to space?
Let's chat. Get in touch and we'll be with you shortly.